Chris Christie Says Trump Calling Hillary a Bigot is 'Unwarranted' But Hillary Started It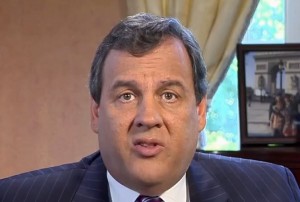 New Jersey Governor and former Republican presidential candidate Chris Christie gladdened the hearts of pre-schoolers everywhere when he acknowledged decades of playground legal precedent in an interview with ABC News' Martha Raddatz Sunday morning. Christie appeared on This Week to talk about Donald Trump's campaign, and wHen Raddatz asked him if he believed that Hillary Clinton is a "bigot," as Donald Trump has repeatedly called her, Christie said such discourse is "unwarranted," but blamed Clinton anyway:
RADDATZ: Governor Christie, he also called Hillary Clinton a bigot this week. Do you believe that Hillary Clinton is a bigot?

CHRISTIE: I'll tell you this, this type of discourse in the campaign is just unwarranted, but it was started by Mrs. Clinton. Mrs. Clinton has started the idea of calling Donald Trump those type of names. And the fact is that one you are the person, and Mrs. Clinton is the person who injected this type of commentary into this race, one you inject that type of commentary into this race, you can't then sit back and start complaining about or have some of your handmaidens in the media complain about it.

The fact is that she's been the person who started this type of conversation in the campaign. She should be ashamed of herself.
While Hillary Clinton has spent a lot of time calling out Donald Trump over his courtship of the racist "alt-right," she has, in fact, not called him a "bigot" or a "racist." It was actually Republican Speaker of the House Paul Ryan (R-WI) who accused Trump of "textbook racism."
This is an opinion piece. The views expressed in this article are those of just the author.