Chris Christie: 'Short Of Suicide,' There Is No Way To Deter False 2012 Speculation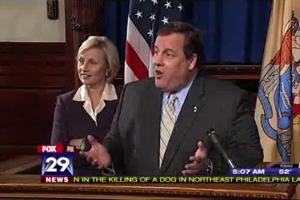 New Jersey governor Chris Christie's name has been tossed around in 2012 presidential speculation since his victory a year ago, in no part due to any effort on Christie's part to spread the word. In fact, Christie has vehemently denied any desire to run for president several times, and did so again this week. Frustrated with the continued speculation, he posits that, "short of suicide," there is nothing he can do to stop it.
Christie, who has made a name for himself talking tough to reporters and being, has been the subject of much speculation lately and is the preferred fantasy choice in 2012 for several conservative pundits like Ann Coulter and Tucker Carlson. Yet Christie adamantly refuses to run, and is becoming frustrated at the fact that there seems no way to deter the speculation. At this point, he told the press, there's only one way he can prove he won't run, and he doesn't seem interested in doing that anytime soon:
"I've said I don't want to, I'm not going to, there's zero chance I will, I don't feel like I'm ready to be president, I don't want to run for president, I don't have the fire in the belly to run for president, but yet everybody still thinks 'he's left the door open a little bit.' Short of suicide, I don't know what I have to do to convince you people that I'm not running. I'm not running."
So there you have it. Christie is not running for president, and he's really hoping this Kafkaesque presidential nightmare will end before the media drives him to suicide.
The clip via Fox 29 Philadelphia below:

Have a tip we should know? tips@mediaite.com