Christie Slams Eugene Robinson On Morning Joe: 'Shouldn't Have A Platform To Speak'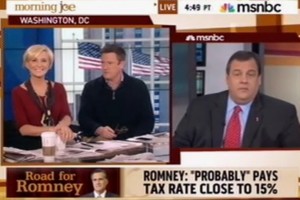 New Jersey Governor Chris Christie lashed out at Washington Post columnist and MSNBC contributor Eugene Robinson on Robinson's home turf this morning, telling Morning Joe hosts Joe Scarborough and Mika Brzezinski that people like Robinson "shouldn't have a platform to speak, they're so ignorant."
Christie was responding to a September column by Robinson, in which the Pulitzer Prize-winner advised the Gov. to "Eat a salad and take a walk."
RELATED: Bill Press On Why Gov. Chris Christie Shouldn't Run For President: 'He's Too Fat!'
Mika Brzezinski began by praising Christie's recent interview with Oprah Winfrey regarding his struggles with obesity.
"It is a struggle and has been a struggle for me a lot of years," Christie said, adding, "I hope other people in the country understand. I hope you all understand when ignoramuses like Eugene Robinson get on your show, when they talk about weight and someone should 'have a salad and take a walk.'
"As far as I'm concerned," Christie continued, "guys like that shouldn't have a platform to speak because they're so ignorant."
Christie is understandably sensitive about criticism of his weight, but Eugene Robinson is getting something of a bad rap here. The "salad" quote is accurate, and, out of context, it does sound flippant and mean. However, Robinson's column was about the larger issue of obesity, and he compared Christie's role in it to President Obama's relationship to smokers, a far more legitimate line (in my view) than those who have concern-trolled about Christie's physical fitness to hold office.
Still, as someone who struggles with a host of self-destructive vices, I understand the urge to greet the advice of perfect, skinny people with a friendly Parkway Salute. What I find disturbing is Christie's desire to silence Eugene Robinson. Can you imagine if Barack Obama went on MSNBC and said that Joe Scarborough "shouldn't have a platform to speak?"
Even more disturbing, though, was Joe Scarborough's reaction, or lack thereof. After the Governor of New Jersey had just tacitly called for the firing of his friend and colleague, Scarborough joked, "Willie and I have our own struggles."
Willie Geist, at least, had the courage and loyalty to "By the way, we love Gene Robinson. That may not have been his finest moment, but we love Gene."
Scarborough's silence in the face of this attack on his friend was reminiscent of how he handled Ann Coulter's slurring of the late Sen. Ted Kennedy on Morning Joe a few months back. Apparently, being friends with Joe Scarborough means never having to say "Thanks for backing me up, pal!"
Here's the clip, from MSNBC:
And here's a clip of Eugene Robinson defending his column on Morning Joe this past September:
Have a tip we should know? tips@mediaite.com