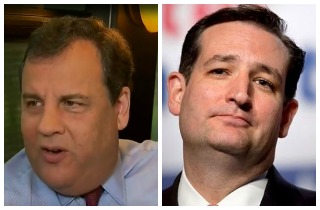 On Tuesday, in an exclusive interview with CNN host Jake Tapper, Chris Christie had some advice for his party which has experienced record low favorability ratings in the wake of the government shutdown. Christie said that winning elections is a more important goal for the GOP than winning the political argument of the day. In the process, he may have unwittingly taken a jab at Sen. Ted Cruz (R-TX) who touted "winning the argument" over the Affordable Care Act as the government shutdown's bright spot for the Republicans.

"The party's got to focus on winning again," Christie said. "Sometimes I feel like our party cares more about winning the argument than they care about winning elections."
"If you don't win elections, you can't govern," he continued. "And if you can't govern, you can't change the direction of a state like we've done in New Jersey."
"The fact that you're seeing so many nasty partisan jabs from Democrats," Cruz told CNN's State of the Union host Candy Crowley on October 6, less than a week after the start of the shutdown. "That fact that you're seeing those attacks is indicative of the fact that we're winning the argument."
It was a line he repeated in an interview with The Dallas Morning News. In fact, "winning the argument" has been Cruz's favored strategy before he was even sworn into office.
Did Christie wittingly take a shot at Cruz? That's not likely, but he did swipe at the mentality in the GOP which values scoring points against Democrats in order to win the fleeting media narrative of the moment rather than position themselves for victory in the long run.
Cruz, more than anyone in the Republican Party, embodied this style of politicking over the course of the government shutdown. Clearly, Christie and Cruz do not see eye to eye on strategy and tactics.
Watch the clip below via CNN:
h/t Marc Caputo
[Photo via screen grab/YouTube ]
— —
> >Follow Noah Rothman (@NoahCRothman) on Twitter
Have a tip we should know? [email protected]