Chris Christie Tears Into Boehner For Delaying Sandy Aid: 'This Was The Speaker's Decision — His Alone'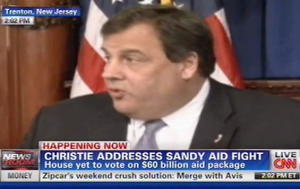 New Jersey Gov. Chris Christie made it abundantly clear whom he blames for the delayed vote on the Hurricane Sandy aid bill: House Speaker John Boehner. In a press conference on Wednesday afternoon, Christie tore into Republicans and Boehner for their inability to put politics aside and pass through legislation that would help the many people still dealing with the storm's aftermath.
"There's only one group to blame," Christie said. "The House majority, and their speaker, John Boehner." The House response last night, he added, was "disappointing and disgusting to watch."
"Last night, the House majority failed that most basic test of leadership and they did so with callous indifference to the suffering of the people of my state," the governor continued, emphasizing that this is one issue that should not but caught up in political partisanship. It's living up to the oath lawmakers took.
Citing his collaboration with New York Gov. Andrew Cuomo, Christie said the bill could not overcome the "toxic internal politics of the House majority" — but "New Jerseyans and New Yorkers are tired of being treated like second-class citizens."
"Shame on Congress," Christie scolded.
In addition to Cuomo, the governor also said he's been in contact with President Obama about Sandy relief efforts, and also credited Democratic New Jersey Sen. Bob Menendez who worked to get the aid bill passed. He further credited Rep. Eric Cantor (R-VA) for "working as hard as he could to get this done for us."
It wasn't until after 11 p.m. last night that he received a call that the vote was delayed, Christie said. After that, he said he phoned Boehner four times but "he did not take my calls." During the first question of the presser, he underlined whom he was pointing the finger at.
"All I can tell you is this was the speaker's decision," Christie said. "His alone."
Rep. Peter King (R-NY) also had choice words for the Republicans on the issue of Sandy aid today. Meanwhile, Obama has urged the House to get the bill passed today, criticizing Republicans for their "refusal" to act on an "an urgent request to support their efforts to rebuild and recover."
Watch below, via CNN:

Have a tip we should know? tips@mediaite.com