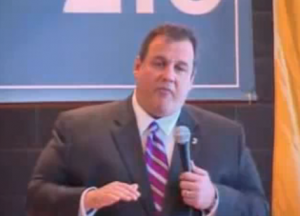 Apparently it's already August in New Jersey. It's not exactly news at this point that the teachers of New Jersey don't like Gov. Chris Christie. It's also pretty clear by now that Christie isn't exactly one to stand down from a fight. So, none of us should be surprised that the governor's recent town hall meetings have yielded up some terrifically heated moments. As a recent news story on Jersey channel NJN showed, Christie had some sharp words for a couple of teachers who spoke up. When the governor told a reporter earlier this month that he "should really see me when I'm pissed," maybe this is what he was speaking about.
The video, which the sort of thing that will quickly find it's way to an upcoming campaign commercial, was taken during a town hall meeting in Rutherford, New Jersey. At the one point, a local teacher complains that Christie's proposed budget cuts would lead to unworkable salaries for teachers. As she turns to sit down, Christie gives her a simple solution: "Well, you know what, then you don't have to do it."
Give the man credit for one thing, he's certainly consistent and honest. This video will assuredly continue to make him a polarizing figure. His detractors will see the response as callous and cruel while his champions will see it as proof that he is the union-busting superhero he claims to be. Meanwhile, somewhere in the Garden State, the teacher who once taught a schoolboy Christie his public speaking skills is now silently kicking himself.
Have a tip we should know? tips@mediaite.com