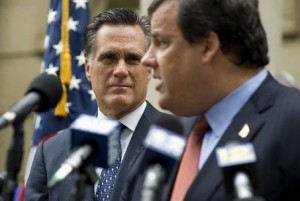 Barely a week after ending speculation that he might run for president, New Jersey Governor Chris Christie is set to endorse former Massachusetts Gov. Mitt Romney for the Republican presidential nomination, according to Fox News. Christie's endorsement cones at a critical time for Romney, as he fends off Herman Cain's rocket ride in the polls, and weathers attacks from former frontrunner Rick Perry, going into tonight's Bloomberg/Washington Post debate.

According to Fox News' Carl Cameron, Christie will deliver his endorsement at Dartmouth College in New Hampshire.
Christie's endorsement of Romney isn't all that shocking, as their moderate views line up better than the other candidates', but the timing is a bit surprising. With an eye toward a future run for the presidency, I expected Christie to wait awhile longer, to try and bet on a surer thing.
On the other hand, the endorsement will carry greater significance now, on the heels of Christie's run as media super-duper-star, than it would after a few months of his buzz dying down. It's a bit of a risk for Christie, but the endorsement carries nothing but upside for Romney. As Cameron points out, this helps to solidify the inevitability of Romney's candidacy, a key selling point for the former Massachusetts governor.
Of course, we all remember who the "inevitable" candidates were this time, four years ago.
Here's the report, from Fox News:
Update: Perry Campaign Communications Director Ray Sullivan has released the following statement on Mitt Romney's expected announcement:
"Gov. Perry has the utmost respect for Gov. Christie and looks forward to his help unseating President Obama next year. Until then, Gov. Perry will continue traveling the country talking about job creation and getting America working again. Rick Perry is the only candidate with a proven record of job creation, restraining spending, and lowering taxes to encourage strong economic growth and opportunity."
Have a tip we should know? tips@mediaite.com