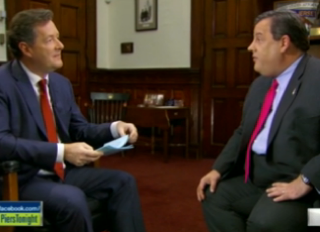 The latest battleground for same-sex marriage has become New Jersey, where Gov. Chris Christie is poised to veto a bill passed by the state's legislature that would allow same sex couples to marry. Gov. Christie will be Piers Morgan's guest on his program tonight, where the host challenged the Governor on his decision, and asked whether he felt his position would become increasingly outdated as more states accepted same-sex marriage.
RELATED: NJ Governor Chris Christie Gets It Right On Half-Mast Flags For Whitney Houston
"I will veto it because that is what I promised to do," he told Morgan of the bill, noting that it was "an emotional and sensitive issue." His take, he reiterated, was to "put it on the ballot; let's let people decide," and he was "willing to take the risk" that the people disagreed with him. Morgan did not see that as an easy answer, asking whether he had any concerns– perhaps based on his presidential ambitions ("which is taken as a given because why else would you be in politics?")– that it would hurt him on a national scale. He countered that 43 out of 50 states supported his position.
Morgan then asked whether he had gay friends who had a problem with his position. Christie answered in the affirmative, and told Morgan that "we have robust conversations about the issue," but none call him a bigot. "It's my core belief and I tell people that, and my friends, whether they be homosexual or not, know me, and they know that I'm not bigoted," he noted.
The segment via CNN below:

Have a tip we should know? tips@mediaite.com