Chris Christie To Today: Romney Probably Wishes He Could 'Take Back' Birther Joke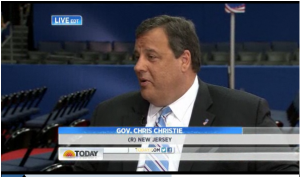 New Jersey Governor and Romney supporter Chris Christie sat down with Today's Matt Lauer at the RNC convention Tuesday, where he was asked about a puntastic New York Post cover story claiming that he declined to run alongside Mitt Romney because he didn't think the GOP ticker could win.
Christie swiftly denounced the story as "complete garbage," pointing out that the article's writers know him and have his number, yet never called him for comment.
RELATED: Video: Mitt Romney Tells Crowd 'No One Has Ever Asked To See My Birth Certificate'
Talk soon turned to his upcoming address at the RNC, with Christie sharing that he's planning to use New Jersey as an "illustrative" example of his brand of governance. When Lauer asked whether the speech might pave the way for a Christie run in 2016, the Governor said that, in four years' time, we'll see Romney running for re-election.
Later, Lauer asked whether Romney was courting increasing controversy and speculation by not releasing more of his tax returns. Christie responded that, actually, it is the President who has been a "mystery and an enigma to the American people." Besides, he added, people are much more concerned with issues like jobs and the economy.
As for Romney's recent joke referencing doubts about President Barack Obama's birth certificate, Christie said that, if he had to guess, Romney likely regrets having made the comment in the first place:
I think if he had to do it over again, he wouldn't make the joke. But you know what, when you're on camera 12, 14 hours a day, and you're at a big rallies and you're just going off the cuff, there are going to be times you're going to say stuff you wish you could take back. If you get a chance to talk to Governor Romney, I think he'd tell you that he wishes he could take that one back.'
Have a look, courtesy of NBC:
Have a tip we should know? tips@mediaite.com