Chris Cuomo to Rep. Steve King: Is Free Speech a 'Cover to Poke Islam in the Eye?'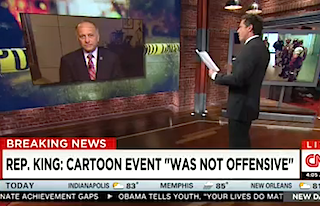 If any member of Congress is considered most closely related to the shooting that happened at a Muhammad cartoon contest in Garland, Texas this week, it is Rep. Steve King (R-IA), who has hosted several events in Washington, D.C. with Geert Wilders, the anti-Islamic Dutch politician who also appeared at the Texas event. On Tuesday morning, King appeared via satellite on CNN's New Day to speak with Chris Cuomo about his reaction to the attack.
"It was going to happen eventually in the United States," King said of an ISIS-affiliated attack on on American soil. "The event that was going on in Garland, Texas, if someone would have told me that this happened somewhere in America, I think I could have told you where it was without having been told."
"They're bringing in Sharia law into America by intimidation factors driven by ISIS," King added, referring to the two attackers.
Cuomo asked the congressman if he thought the event, hosted by Pamela Geller was really about "free speech" or rather if it was "just using that as a cover to poke Islam in the eye."
"I don't think that what they did down there was offensive," King replied. "I think it was a robust demonstration of freedom of speech, and we have to do that. If the speech is not offensive, it doesn't need to be protected by our First Amendment of the Constitution."
Pressed by Cuomo on why he decided to invite Wilders, who has "said some things that are pretty ugly about Islam," to speak before Congress, King praised the Dutchman for insisting that "Western civilization is superior," and said "we need to understand why it's superior."
Watch video below, via CNN:
[Photo via screengrab]
— —
>> Follow Matt Wilstein (@TheMattWilstein) on Twitter
Have a tip we should know? [email protected]