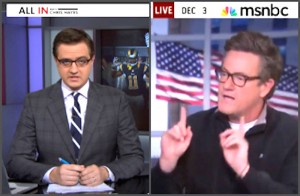 It appears a fracture has emerged between MSNBC's progressive primetime hosts and the network's morning mainstay Joe Scarborough.
While the Morning Joe host has repeatedly lambasted the St. Louis Rams and other protesters for using the "hands up, don't shoot" gesture to express of solidarity with Ferguson, Mo., his primetime colleague Chris Hayes has taken to pushing back against him.
Aside from his on-air rants against the "hands up" gesture, Scarborough wrote Tuesday that "it is offensive because the gesture suggests that a police officer pointed a gun and shot a black man whose arms were in the air while he said 'hands up, don't shoot.'"
Several hours later, as TPM pointed out, Hayes took to his All In program to fight back against that line of thought.
"I refuse to allow people to not be factual about what we did and did not learn from the grand jury testimony," he told his guest, NBC legal analyst Lisa Bloom. (She took a much more direct route, taking to Twitter last night to publicly call out Scarborough for his thoughts on the matter.)
"There is a narrative that we see in certain quarters that the gesture itself of putting your hands up is to perpetuate a lie about the last moments of Michael Brown's life, as if the grand jury testimony and the forensic evidence definitively show that Mike Brown was not shot with his hands in the air," Hayes continued. "While that is how the evidence has been framed by [St. Louis County prosecutor] Bob McCulloch and many others, that is not what is actually in the thousands of pages of grand jury documents."
One of those "certain quarters" undoubtedly includes Scarborough, who has railed against the gesture for three straight days, both on- and off-air.
For his part, Scarborough seems to have taken note of his primetime colleague's disagreements. During Wednesday's edition of Morning Joe, he declared, "It is not [a policeman's job] to make a statement that makes primetime people on MSNBC feel better about America."
UPDATE — 12:30 p.m. ET: An MSNBC spokesperson told us, via email: "MSNBC embraces diverse opinions on our network. Our hosts often have strong points of view, and they aren't always going to agree."
Watch Hayes' commentary below, via MSNBC:
[h/t TPM]
— —
>> Follow Andrew Kirell (@AndrewKirell) on Twitter
Have a tip we should know? tips@mediaite.com