Chris Hayes Calls Obama Tactic Of Sending Tweets To Donor's Moms On Mother's Day 'Bizarre'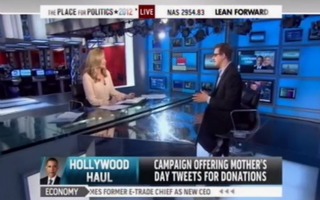 MSNBC anchor Alex Witt invited weekend host Chris Hayes on her program to discuss President Barack Obama's latest fundraising tools. She asked Hayes about a new tactic by the Obama for America campaign in which a donor can purchase a tweet from the President to their mom for Mother's Day. Hayes found the new tactic "bizarre."

RELATED: NY Times Buries The Lede: Anderson Cooper's Ratings Surge At 8PM
"We have Mother's Day this Sunday," Witt began. "And the campaign is saying the President will tweet your mom a happy Mother's Day message – you know, for a price. Obviously it's a fundraising tool. How cool is that? And do you think this is the kind of thing we're going to see—getting creative?"
Hayes appeared less enthusiastic about the Obama campaign's latest fundraising tactic:
Because they're going to have to raise a lot of money in small-dollar donations, they're going to have to constantly come up with new ways to incentivize that giving. There's something I find a little bizarre – I mean, we've all accepted basically the way that we've raised money for campaigns these days and I think it's easy to lose sight of how strange it is. It almost feels like it's a commercial raffle, right? If you give enough money, your mom might be tweeted by the President of the United States. It makes me feel like there might be other, better ways of raising money for campaigns.
Witt suggested that if he had any suggestions for the Obama campaign, he should reveal them on MSNBC. "I'm sure they're listening," said Witt.
Watch the segment below via MSNBC:
Have a tip we should know? tips@mediaite.com