Chris Hayes Compares Climate Change To Civil War, Untapped Oil Reserves To Slaves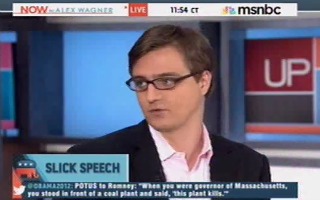 MSNBC's host of Up, Chris Hayes, joined the NOW panel on Friday where he noted that there has been a conspicuous lack of interest in the issue of climate change this election cycle. Hayes said that, while there is a sense among politicians that there is a limited political benefit in putting forward a plan to address climate change, opposition to addressing that problem among fossil fuel producers cannot be discounted. He compared the fossil fuel industry to the antebellum South and the potential wealth represented by untapped oil and gas reserves to pre-Civil War slaves.

In a discussion about the lack of interest by both parties this election cycle about the issue of climate change, BuzzFeed editor Ben Smith noted that the poor recovery has created antipathy to addressing climate change among Democrats who represent districts with a significant coal mining industry.
Hayes agreed, and said that politicians were only part of the reason why climate change has slipped off the political radar this cycle. The fossil fuel industry represents the other side of that coin.
"The only historical analog for the amount of money that's on the line – in terms of the fossil fuel industry – is the sum total value that the slaves represented in the civil war," said Hayes. "That is the analogy you have to go back to when you think of the current present value of the fossil fuel reserves that are on the books of the current fossil fuel companies. The last time that that much wealth was at stake was when the South fought the civil war."
Watch the clip below via MSNBC:
> >Follow Noah Rothman (@Noah_C_Rothman) on Twitter
Have a tip we should know? tips@mediaite.com