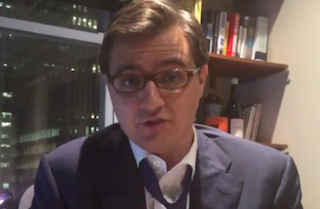 MSNBC's Chris Hayes led his show Wednesday night with an interview with Frank Ancona, who describes himself as a "grand wizard" for the Ku Klux Klan and is threatening to use "lethal force" against protesters in Ferguson, Missouri following the potential decision of a Grand Jury to let the police officer who shot Michael Brown go without charges. After the interview aired, Hayes decided to record a follow-up video to explain why he decided to give airtime over to someone in that position.
"I think anyone who watches the show knows that I find the KKK, as all right-thinking people do, odious in the extreme," Hayes said into the camera, before going on to explain that he is trying to "tell the whole story" of the Ferguson shooting from all sides and "different perspectives."
According to Hayes, the KKK is "speaking to a small but real, growing darkness in certain parts of white St. Louis" and he wanted to find a way to show that on television. "This seemed the best way we could do it, faithfully, as journalists," he added.
Here is just some of the negative feedback he received on Twitter following the interview last night:
I don't know about Chris Hayes giving the KKK a platform. Everyone knows their positions. He could report on their activity w/o the intervw.

— David Pleasant (@dpleasant) November 13, 2014
Chris Hayes has KKK member on speaking about #Ferguson. I'm bothered for many reasons. Should fringe groups have a voice in #msm? #inners

— Geri (@gerica_goodman) November 13, 2014
White KKK leader on TV lookin miserable. Let the hate go maybe. Why amplify his voice @ChrisHayesTV?

— backwards n3d (@realjamilton) November 13, 2014
Imperial Wizard of the KKK? You're @chrishayes for heaven's sake, not Geraldo Rivera! #inners #msnbc

— Fred Bubbers (@FredBubbers) November 13, 2014
OK, @ChrisHayesTV, you lost me when you let a KKK asshole have air time. Screw both of you.

— Fake Geek Guy (@grimmtooth) November 13, 2014
In a subsequent interview with TVNewser, Hayes stood by the decision once again, saying, he thought the show made the "right call" and adding, "We debated and wrestled with whether or not to do it and weighed the pros and cons and ultimately decided there was real news/journalistic value in putting him on."
Watch video below, via MSNBC
And watch the full interview below, via MSNBC:
[Photo via screengrab]
— —
>> Follow Matt Wilstein (@TheMattWilstein) on Twitter
Have a tip we should know? tips@mediaite.com