Chris Hayes Digs Up 2008 Santorum Speech Stating Protestants Are 'Gone From The World Of Christianity'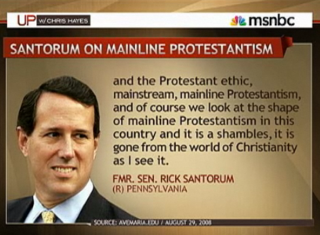 On today's Up with Chris Hayes, the host unveiled a 2008 talk by Rick Santorum that could possibly be the only thing to make him lose the American religious vote: one in which he condemns "mainline protestantism," of all things, and claims it is now "gone from the world of Christianity." Needless to say, these sorts of words coming from a Catholic cannot inspire confidence in the sort of voter that looked askance at John F. Kennedy for being a Papist.
RELATED: Furious Rick Santorum Fights Charlie Rose Over 'Gotcha' Question On Aspirin Joke: 'This Is What You Guys Do!'
The speech is from a 2008 event at Ave Maria College in Florida, where Santorum notes that America was founded upon a Christian philosophy but "the Judeo-Christian ethic was a Protestant one." "We look at the shape of mainline protestantism in this country and it is in shambles, it is gone from the world of Christianity as I see it," he concludes. Hayes finds these comments in the hands of Santorum somewhat less damaging than, say, if Mitt Romney or President Obama would have said them, but nonetheless toxic to a country where mainline Protestantism is so dominant, and where conservative thought of Santorum's genre in particular is so dominant. His panel agrees and disagrees in part– one part being that the comments, from Santorum, are not surprising, and the other that those mainline protestants who would have already been suspicious of Santorum's political beliefs would not be dissuaded from voting for someone they already didn't trust. Since the story hit on a Saturday (one after Santorum had to clean up his donor's aspirin mess, mind you), it will take a few days for the repercussions of the story to make their presence fully felt, but that a Catholic is once again facing questions about their relation to Protestantism is not a new story in American politics.
What Romney and Jon Huntsman's entries into the Republican race this year obscured in America's religious politics is the tense relationship between Protestants and the Catholic Church. In many ways, Santorum's comments were inevitable. Not inevitable that Santorum would make them, but inevitable that a Catholic in the course of political history in American politics would make off-color comments about Protestants. After all, the aforementioned Kennedy was considered something of a danger because, as a Catholic, he may have considered the authority of the Pope in his decisions– a concern that, half a century in hindsight, seems ridiculous. But as consistent minorities in this Protestant nation became increasingly exposed to Catholicism as generations of immigrants– Irish, Italian, Spanish, and now Latin American– brought the religion into America, a discussion on Catholic concerns about Protestants (and not Protestant concerns about Catholics) was inevitable. It may be a surprise that Santorum is the candidate to bring Catholic distrust of Protestants to the forefront, but that these sorts of comments bubble to the surface as the Latin American population of the United States increases, and as New York Archbishop Dolan becomes a Cardinal, is not.
The comments (and discussion from the Up panel) via MSNBC below:

Have a tip we should know? tips@mediaite.com