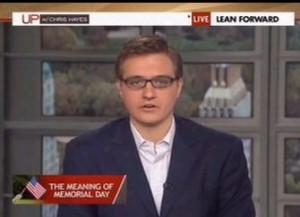 It's Memorial Day weekend, and while many may be marking this occasion as a time for barbecuing with the family, it's also an important time to reflect on the sacrifice of those who lost their lives serving the country. We like to remember them as heroes, men and women who risk everything to protect their fellow citizens, but on MSNBC today, Chris Hayes admitted he feels "uncomfortable" about doing that, suggesting the "hero" label gives us more rhetorical reasons to continue the wars.
RELATED: Up with Chris Hayes Panelist Compares Ann Romney With Hitler And Stalin
Hayes observed that in much casual conversation about war and fallen soldiers, talk of heroism often comes up, and he doesn't necessarily think that's a good thing.
"I feel… uncomfortable, about the word because it seems to me that it is so rhetorically proximate to justifications for more war. Um, and, I don't want to obviously desecrate or disrespect memory of anyone that's fallen, and obviously there are individual circumstances in which there is genuine, tremendous heroism, you know, hail of gunfire, rescuing fellow soldiers, and things like that. But it seems to me that we marshal this word in a way that is problematic. But maybe I'm wrong about that."
Columnist John McWhorter agreed with Hayes' discomfort because the word "hero" and others like it can be used as "argumentational strategies" whether we are consciously aware of that or not. Hayes did acknowledge the other side of the argument, namely that there is no mandatory conscription and service is purely voluntary, therefore all those who choose to sign up and take heavy risks are heroes in their own right.
Michelle Goldberg, columnist for The Daily Beast, argued that the reason "hero" comes across as a loaded word is that it implies "they died in the pursuit of a worthy endeavor." But see, I don't think that's the case. I'm sure there are many people who would disagree with U.S. military interventionist policy who recognize that the troops are just people following orders and doing their jobs under difficult circumstances. As fellow panelist Liliana Segura noted, people can certainly make the obvious distinction between the policy and the troops.
There's nothing wrong with remembering the fallen as heroes. I can't imagine the kind of courage it takes to voluntarily take a position with the understanding that you could die at any moment.
Watch the video below, courtesy of MSNBC:
h/t NewsBusters
Have a tip we should know? tips@mediaite.com
Josh Feldman - Senior Editor