Chris Hayes, Glenn Greenwald: By Being 'Polite' To Dick Cheney, Media Is Helping Create A 'Moral Hazard'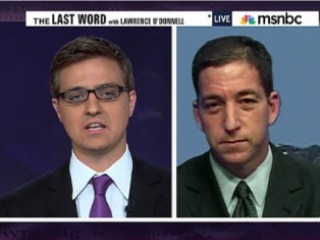 On Thursday's The Last Word, Salon blogger Glenn Greenwald joined substitute host Chris Hayes to discuss the "reemergence," as it would appear, of former Vice President Dick Cheney as he makes the media rounds in promotion of his upcoming memoir, In My Times.
Shockingly, Hayes is less than delighted with the positive reception and attention Cheney's book has been getting, particularly since Cheney has been telling interviewers that, yes, he still supports waterboarding and other forms of what he calls "enhanced methods of interrogation." Hayes shared that he initially thought "everyone" at Simon & Schuster, the book's publisher, should be deeply ashamed of themselves, although he admits he's since refined and refocused his considerable ire. What troubles him most, he shares, is "the fact that he has managed to escape not only legal sanction for advocating and overseeing the implementation of the war crime that is torture, but that he has appeared to manage to escape social sanction as well."
He continued:
When powerful people are not held to account, when they have no worry about their reputations, it creates a moral hazard, not unlike what's happened with the banks. Anti-social behavior is awarded, failure is also awarded, trapped inside a system of perverse incentives.
Greenwald joined Hayes, weighing in on how Cheney's assessment that his book will have "heads exploding" all over Washington (So. Many. Jokes…) works to reduce valid moral outrage about the beliefs espoused within the book to mere, expected "partisan anger." This works to essentially downplay if not ignore, as Greenwald listed, the various questionable-to-illegal actions Cheney has promoted and advocated over the years, including enhanced interrogation / torture, the war in Iraq, and increased access to people's personal information (or, if you like, the implementation of "a domestic spying program").
Greenwald expressed concern over the media (and, perhaps, the public's) apparent refusal to treat Cheney and other former Bush officials as war criminals, choosing instead to hold them up as celebrities.
The two also criticized the Obama administration's policy of "looking forward" rather than prosecuting Bush officials like Cheney, which, as they see it, essentially gives high-powered officials in the U.S. a carte blanche to break the law without repercussion.
Oh and about that giant Brazilian Jesus sculpture hovering just beyond Greenwald's left shoulder throughout the segment. Yeah, even he was like "Ok…"
Have a look at their discussion, via MSNBC:
Have a tip we should know? tips@mediaite.com