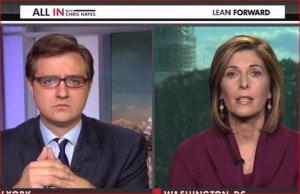 MSNBC's Chris Hayes faced off with former CBS News reporter Sharyl Attkisson tonight over her claims of the government hacking her computer, and Hayes repeatedly pressed her on what evidence she has to back up that extraordinary claim.
Hayes asked Attkisson about the video she put out purporting to show someone breaching her computer and deleting entire blocks of text in real time. Hayes questioned her on how, "live as you are watching," she could have recorded this, and asked her what other evidence she has. Attkisson spoke of forensic evidence she discovered after meeting with anonymous individuals.
Hayes candidly told Attkisson that "it just seems so impossible to independently verify" these claims, especially when the charge is that the government committed a serious crime against a journalist. They kept on this particular point until Attkisson admitted she's not going to convince Hayes of "something that you find unconvincing."
In part two of the interview, Hayes asked Attkisson the big, burning question: is she just trying to win over the conservative media and angling for a job at Fox News by talking about how the Obama administration has stonewalled her reporting? Attkisson shot back that people making those accusations haven't paid attention to her and her work.
She pointed out to Hayes that she's investigated Republicans in the past and in her book she writes about conservative corporate bias too. Hayes still expressed skepticism, saying, "You're like the toast of the town over at Fox News."
Watch the full interview below, via MSNBC:
Part 1:

Part 2:
[image via screengrab]
— —
Follow Josh Feldman on Twitter: @feldmaniac
Have a tip we should know? tips@mediaite.com
Josh Feldman - Senior Editor