Chris Hayes on His Own Pot Past: If I Was Black 'My Ass Would've Been in the Back of a Squad Car'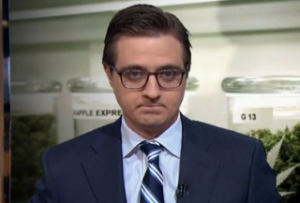 The reactions to David Brooks' column about pot have been flooding in from all over the place, most of them of the humorous variety, but last night, MSNBC's Chris Hayes used it to make a pot about the racial nature of the Drug War, going so far as to talk about the time he almost got arrested at one of the most high-security areas in the country for having pot in his bag.
Hayes attended the Republican National Convention in Philadelphia with his wife and father-in-law all the way back in 2000, and he realized a little too late that he had a bag of weed inside his glasses case. After going through a few security checkpoints, one of the security officers went through the bag and found the pot.
Hayes was panicked at the time and expected to be arrested, but not only did he not get in trouble, but the officer handed him his weed bag and sent him on his merry way. In retrospect, Hayes said the officer probably thought he was related to a politician and didn't want to piss off any powerful people, and Hayes found that to speak volumes about the true crime of the War on Drugs.
"I can tell you as sure as I'm sitting here before you that if I was a black kid with cornrows instead of a white kid with glasses, my ass would've been in the back of a squad car faster than you can say George W. Bush."
Hayes showed statistics illustrating how blacks and whites smoke marijuana at roughly the same rates, but black pot smokers are arrested on a much higher bases.
Watch the video below, via MSNBC:
[photo via screengrab]
— —
Follow Josh Feldman on Twitter: @feldmaniac
Have a tip we should know? tips@mediaite.com
Josh Feldman - Senior Editor