Chris Hayes Panel Praises Bachmann For 'Effective' Gingrich Takedown In Fox Debate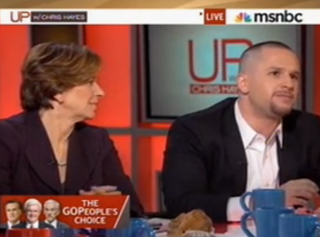 It isn't every day Rep. Michele Bachmann gets some vocal praise from most of the panel on Up with Chris Hayes, but this morning, her attacks on Newt Gingrich for his potential lobbying work for Freddie Mac were met with positive reviews, with host Chris Hayes noting she was "very effectively pressing the case against Newt Gingrich" in a way that made him particularly vulnerable.
RELATED: USA Today/Gallup Poll: 70% Of Americans Can't Wait For The 2012 Race To Be Over
Hayes introduced the clip as a very effective attack of Rep. Bachmann going after Gingrich for his work with Freddie Mac, and Gingrich replying by calling her, in essence, factually incorrect. Panelist Josh Barro agreed with Hayes that Gingrich looked vulnerable, but explains that "Gingrich is vulnerable because he did real bad things in this area," not just for any rhetorical reason. He added that he was beginning to this Gingrich's assertions that he was a "historian" for Freddie Mac and not a lobbyist, beyond being untrue, were actual beliefs Gingrich held.
Panelist Heather Boushey added that Gingrich was not alone in this. There were many people in Washington, she noted, who "don't lobby, but they have views and they express them and they educate," adding to Gingrich's image as a Washington insider. Errol Morris agreed, particularly because Gingrich began "parsing words" like an insider. What's more, "something he said… came off as incredibly sexist," and that didn't help him. Randi Weingarten adds that it was not only his treatment of Rep. Bachmann at the debate, but the point he made afterwards that the candidates were "all so collegial, except for Michele Bachmann." "She pressed her point, she pressed at him, and I thought he came off as he is," Weingarten concluded, in what could not have been meant to be a particularly flattering assessment of Gingrich.
RELATED: Meghan McCain's Feud With Gingrich Rolls On: Treatment Of Bachmann Could 'Obviously' Be Sexist
The segment via MSNBC below:

Have a tip we should know? tips@mediaite.com