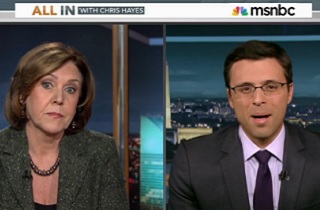 A roiling blood feud between Salon's Joan Walsh and The Washington Post's Ezra Klein came to a bone-crunching head Wednesday night, as All In host Chris Hayes mediated an epic rhetorical steel cage match between the duo. The brouhaha culminated in Walsh telling Klein "You're a wonderful reporter. I read you every day. I probably read close to every word you write."
Sh*t just got real.
At issue was Walsh's complaint that Klein's reporting on the Obamacare website has been unbalanced, lacking in perspective, and objectionable in tone. Klein responded with "shock" that he was expected not to cover the rollout "accurately," but rather, "instrumentally."
Walsh began by explaining that she wrote her critique of Klein because "I woke up Monday morning in a changed America. We had gone from nonstop coverage, and I thought appropriate coverage, of the constitutional crisis that the Republican party had brought us to, the brink of global economic disaster. And suddenly, the disaster was the website of the Affordable Care Act, which is not the Affordable Care Act. It is only a part of it, the President was right to say that."
She continued, "And I saw a kind of piling on, including by liberals, and I really — I didn't do many of the things I'm accused of. I didn't say don't report on these things. I didn't say don't talk about them. I said, have a sense of perspective. This may doom the program, but it's way too early. And I think that was read as I was somehow a prop for Obama."
"And of course, I am the last person," Walsh added, then paused. "Not the last person…"
"You're not the last person," a smiling Hayes agreed.
"Not the last person. Good call," Walsh said. "But, you know, people who are devotees of our President are sitting in their living rooms saying 'She's no Obama-bot."
They were probably also thinking "Why did I just call myself an 'Obama-bot' in my own thoughts? That was weird."
Klein explained, at length, that reporting on the issue is necessary and important, because the problems run deeper than just the website. "When you call the health care system on the phone, when you call Obamacare on the phone and try to sign up, they are sending that information about you through the computer system to the insurance company, and that isn't working," Klein explained, adding "that's why this is a really big deal."
so what's your response to that?
Walsh responded by explaining the benefits of the law, and adding that "A lot of people are frustrated but hanging in, because they desperately need health insurance. They're going to get it. It may be a complete disaster down the road, but we're not there yet."
Then, Walsh went in for the kill. "I guess, Ezra, what I would say to you is you're a wonderful reporter," she said. "I read you every day. I probably read close to every word you write."
"This is a brutal takedown," Hayes cut in. "Continue."
"I'm toast," Klein said.
"But it was your tone, and I think what people trust about you is your sobriety," Walsh continued. "People think you're a liberal, and that's because reality has a well known liberal bias. But you do your job and I appreciate that. I just felt like live-blogging your attempt to reach somebody on the phone and complaining about the lack of hold music crossed the line."
Klein explained that "When I called the system, it's because President was saying call the system that day. The system dropped the call twice because it was so overwhelmed. I am trying through this reportage to convince people, to persuade them something has gone wrong here."
Both Klein and Walsh make, and miss, important points. Klein's obervation about the hold music got a lot of attention because it was petty and trivial, but the real problem was that it was shallow. I called three times this week, and the hold music was working just fine. Call centers measure performance through a variety of metrics, but two key ones are call answer times, and hold times. As Klein can attest, the calls were being answered promptly, within ten seconds each time I called, but their internal systems were locked up due to the volume. One way to manage long hold times is to ask a caller to hold, but press "mute" instead of using the "hold" button. The software that call centers use to track these metrics still registers that as "talk time."
Klein is correct, though, that this snafu is a big deal, and sugarcoating the problem only feeds the failure of imagination that led to this problem in the first place. Reporting on the tremendous good that the law does at the same time, as Walsh suggests, should increase the pressure on President Obama to fix this, not ease it. The best way for reporters to keep from becoming useful idiots for the right is to make the stakes for the Affordable Care Act's success inextricable from reporting on its failures.
Here's the clip, from MSNBC:
Have a tip we should know? tips@mediaite.com