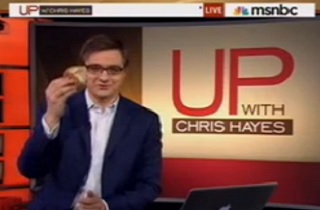 On Sunday morning's Up with Chris Hayes, host Chris Hayes said farewell to the show by delivering a sincere thank you to the folks who put it together, an endorsement of future Up host Steve Kornacki, and a promise to bring the Up ethos to Hayes O'Clock (or whatever his 8 pm show will be called). Hayes also signed off with a sight gag, toasting the audience with a historic last bite from the famous Up pastry plate, and had to plow through the last minute or so with a mouthful of muffin. Where's Marco Rubio's water when you need it?
Hayes began by talking about how much he learned as Up host, "the best job in TV, maybe the best job in the world," crediting the eclectic mix of panelists and guests, as well as the #Uppers, the community of loyal viewers who take the show's conversations to Twitter, and mix with the occasional fan of amphetamines.
"If you're a fan of the show," Hayes continued, "a crazy diehard who set their alarm for 4:50 on a Saturday morning like a maniac, you should know I have very, very good news."
He praised new host Steve Kornacki as a "fantastic analyst" who is "curious and deeply kind and good-natured," adding that "if you crave deep knowledge, you're going to love Steve."
On all counts, Hayes is on the mark about Kornacki, but it is his relentless cheerfulness that sets Steve apart from other possible Up replacements. The show's signature mix of diverse opinions requires a host who is able to thread the needle between spirited debate and the kind of cheap cable news conflict that Up eschews. Hayes had a tendency to err on the side of giving peace a chance when things got heated, so it will be interesting to see if Kornacki lets those flames breathe a little. Not all conflict is cheap; sometimes, it's revealing. It will also be interesting to see if Steve can deploy the killer instinct that's sometimes necessary when a guest forgets to read the "no talking points" memo. Hayes sometimes let stuff slide in the interest of keeping the conversation going, and Steve's kind nature might tempt him to do the same.
Chris also gave a well-deserved shout-out to Up Executive Producer Jonathan Larsen, who is remaining with the show, and is the key reason viewers can count on the show retaining its soul. The elements that have made it successful, the mix of guests who can manage to be interesting at 8 am on a Saturday, the structure of the show's closely-related segments, the camera work that you don't notice, but that conveys the relationships that make Up go, all are overseen by Larsen.
Hayes also promised his prospective new audience that his new show will incorporate what they like best about Up. "If you enjoy the show, and format, and spirit of conversation and curiosity and openness," he said, "we're going to preserve those essential features weeknights at 8 pm in my new time slot. We'll bring you new fresh voices and collectively thinking through the news with rigor and passion. You'll have an opportunity to follow stories, as they arc across the week and intervene in the national conversation, about politics, policy and culture."
That's an awfully big promise to fit into an hour, and a risk that will put Phil Griffin's vision for the channel to the test. He's not likely to lose viewers to Bill O'Reilly, but a sharp departure from cable news formula will have its work cut out for it. Hayes will be competing, mainly, against the blinding white light of CNN's Anderson Cooper, and a program of easily-digestible news of the day. Hayes O'Clock will need to grip viewers without using the Vise Grips found in the standard cable news toolkit, which is a tall order.
Hayes concluded his valediction with a characteristically activist-y nod to his staff. "Finally," he said, "you should know the way TV is produced and presented has a nasty tendency to reproduce a lot about the broader structure of American society and economy that I'm committed to fighting against. Every weekend you watch this show, you see my name and face. What you don't see are the dozens of people who work here, on set, and in the makeup room, and the control room, and the incredible, brilliant funny staff of us who breathe life into this show every weekend. If you enjoy this show, you're enjoying their work as much as mine. everything we touch in our lives, the shirts on our backs, the keyboard you type on and the coffee you drink is produced by a chain of human beings we never meet but who pour forth their labor for the things we love. To those who have done that with vigor and joy and brilliance at Up, thank you."
He then toasted the camera with a big bite from the Up Pastry Plate, which has its own Twitter feed, but then realized he had about another minute of copy to soldier through, including Kornacki's April 13th start date, and next week's "Best of Up" show. Unfortunately, there was no bottle of Poland Spring, awkwardly just off-camera, to help him out:
If Hayes' sendoff makes you nostalgic for how it all began, then check out our behind-the-scenes series Inside Up, which charted the show's progress in its early days, and included glimpses of what the set was like during commercial breaks.
Have a tip we should know? tips@mediaite.com