Chris Hayes Slams Obama's Drone Memo As Justification For A 'Permanent State Of War'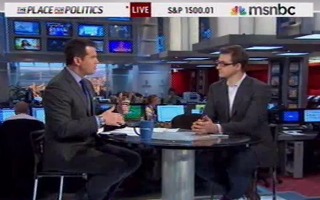 MSNBC host Chris Hayes took aim at President Barack Obama and the recently uncovered legal justification the administration is using to warrant attacks on American citizens who are determined to be operational members of Al Qaeda. Hayes said he was disturbed by what could be used to rationalize a "permanent state of war."

RELATED: John Bolton Praises Obama's Drone Program As 'Sensible' And 'Consistent' Extension Of Bush-Era Policies
MSNBC anchor Thomas Roberts asked Hayes if the Obama administration, and the bipartisan supporters drone warfare, have a point about the fluid definition of treason in the 21st Century.
Hayes replied that he is uncomfortable with the nature of how an individual is determined to be an "operational leader" in Al Qaeda. "The question is, who makes that determination and are they accurate?" Hayes asked. "The problem with all these determinations being made internally, by a single figure in secrecy, is there is no check on their accuracy."
The broader problem is the question of, how long are we in the war on terror and is this legal architecture going to guide American foreign policy in perpetuity? Because there will always – I guarantee you, Thomas – somewhere in the world, be someone, somewhere who is plotting to do something terrible to the United States.
"Isn't that the new normal," Roberts asked.
"Yes, but I don't think it should be," Hayes replied.
Hayes said that nations like England and Spain were also attacked by Al Qaeda operatives, but those states are not in "a permanent state of war."
"I think we can be at peace and still defend ourselves from whatever threats are out there," he said.
When Roberts asked if Hayes would be comfortable if there was some oversight on who was declared an enemy combatant, he replied that he was not sure.
Watch the clip below via MSNBC:
> >Follow Noah Rothman (@NoahCRothman) on Twitter
Have a tip we should know? tips@mediaite.com