Chris Hayes Spoofs 'White Power Structure': 'Has No Clue' How To Stop Culture Of 'White On White Violence'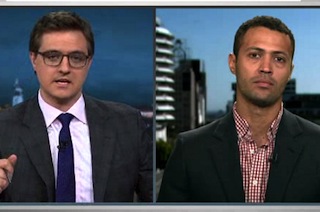 Riffing off an article by Gawker columnist Cord Jefferson yesterday, Jefferson and MSNBC host Chris Hayes satirized the right's concern with "black on black violence," rolling footage of a recent "surf riot" from Huntington Beach and asking when "the white community would gets its act together."
Following the George Zimmerman verdict, many conservative commentators, foremost among them Bill O'Reilly, asked where the black community's outrage was over black-on-black crime, and called for an honest discussion over the decay of family structure in the African American community that led to violence.
Hayes and Jefferson flipped this logic on its head. Jefferson appeared as the reverse-O'Reilly character, speaking harsh truths as an African American who could no longer "sit on the sidelines."
"There are people who are going to tell you that these are just a few bad apples," Hayes said.
"If that's your actual belief, then you're living with your head in the sand," Jefferson said. "White people are learning this kind of behavior at lacrosse camps, they're learning it at college spring break, they're learning this kind of behavior at Ivy League fraternities where drug use and binge drinking are normalized behavior. These kinds of places are the hives of moral debasement that are leading to this white-on-white crime scourge."
"I knew that some white people were going to call this playing the race card," Jefferson continued. "But my best friend is white. My mother is actually white. My prom date in high school was white. She was very white, actually—she used to ride horses. So I have very deep roots in the white community. This isn't hatred for whites, this is just tough love."
Hayes and Jefferson finished by pleading with the "white power structure" to condemn "the St. Patty's Day parades" and other instances of caucasian misanthropy.
Watch the full bit here, via MSNBC:
—
>> Follow Evan McMurry (@evanmcmurry) on Twitter
Have a tip we should know? tips@mediaite.com