Chris Hayes To Martin Bashir: London Attackers Not Terrorists, 'These Are Just Murderers'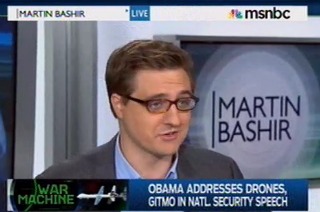 MSNBC host Chris Hayes joined fellow host Martin Bashir on Thursday to react to President Barack Obama's expansive speech regarding the conduct of the war on terror. They turned to the event in London on Wednesday where two men brutally murdered and dismembered a British soldier in the name of "Almighty Allah." Hayes said that the attackers were not Al Qaeda operatives but simply "murderers," and their crimes require a criminal rather than military response.

"What was your reaction to when the president actually said that the war of terror must end?" Bashir asked Hayes. He noted that "two lunatics," "no connection to any terrorist nexus or organization," committed what they claimed was an Islamist attack in London just yesterday.
"I thought that was such an important point," Hayes said. He noted that, like the Tsarnaev brothers who orchestrated a mass casualty event in Boston in April, the London attackers do not appear to be connected to a broader terror organization.
RELATED: Bloodied London Attacker Speaks To Camera After Beheading: 'You People Will Never Be Safe'
"They may say that they're some affiliate of something – these are just murderers," Hayes declared.
Bashir noted that some use events like those that occurred in London and Boston to justify the continuation of the war on terror "in perpetuity."
Hayes agreed and said that the president did a good job defining terrorist groups and individuals connected with terror groups from "criminals" and "murderers." Hayes said that acts like those do not "require us to be in a perpetual state of war."
Hayes and Bashir added that Obama may soon seek the repeal of the Congressional Authorization of Military Force which justified the war on terror.
British authorities are considering the attack in London on Wednesday "an act of terrorism."
Watch the clip below via MSNBC:
> >Follow Noah Rothman (@NoahCRothman) on Twitter
Have a tip we should know? tips@mediaite.com