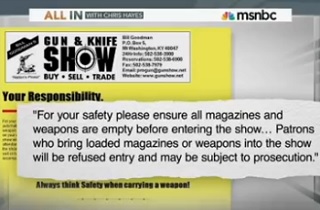 On Monday night's All In with Chris Hayes, host Chris Hayes took on several talking points that are trotted out by gun-crazy absolutists every time there is a mass shooting, but brought one particularly salient fact to bear against the idea that "gun -free zones don't work."
Along with challenging the notion that "the only thing that stops a bad guy with a gun is a good guy with a gun," Hayes presented the most obvious evidence of all that a gun in every hand isn't safe: the gun nuts themselves.
Hayes began by attacking the "good guy with a gun" talking point by explaining that even highly-trained police officers often shoot the wrong people, as in New York's Times Square this past weekend, or the shooting at the Empire State Building about a year ago, which resulted in nine bystanders being wounded by police. This talking point was pretty soundly defeated in Tucson, anyway, when a good guy with a gun almost shot the wrong man, the one who had taken shooter Jared Loughner's gun away from him.
The "gun-free zones don't work" argument is almost too stupid to engage, since their purpose isn't to deter mass murders like the one that took place today at the Washington Navy Yard, but Hayes' debunking of it carries the additional benefit of illustrating the true purpose of gun-free zones. For various reasons, there are certain places where having lots of people with guns creates an unsafe condition, at least in the minds of those who have control over those places. In theory, those people are us, the ones who elect the people who make the laws about gun-free school zones.
But what happens when those people are the gun nuts themselves, or at least, the people who gather the gun nuts and the normal gun owners together in ballistic fellowship?
"This seemingly basic logic of not having a bunch of people with loaded weapons in a crowded space is actually put into practice by the people who run gun shows," Hayes pointed out, flashing the graphic above. "From the website of Bill Goodman's gun shows, 'For your safety, please make sure all magazines and weapons are empty before entering a show. Patrons who bring loaded magazines or weapons into the show will be refused entry and may be subject to prosecution.'
"I'd argue that same bedrock logic applies just as well outside of gun shows," Hayes concluded.
That rule, it turns out, isn't just something Hayes dug up from a particularly pussified gun show. From "Badshot Gun Show LLC a second amendment rights production":
All firearms are to be unloaded, no magazines/clips in the weapons and all will be checked prior to entering building.
From Ohio Gun, Knife, and Military Shows:
LOADED FIREARMS ARE NOT PERMITTED ON THE GUN SHOW PREMISES. EXHIBITORS AND PATRONS ARE REQUIRED TO EXAMINE EACH FIREARM, REMOVE CLIPS AND BE POSITIVE THAT THE FIREARM IS NOT LOADED BEFORE ENTERING THE GUN SHOW PREMISES.
In fact, I couldn't Google up any gun shows that allow loaded firearms, and in January, ThinkProgress compiled a list of 51 gun shows that banned loaded guns. all between January 11-January 27. Why don't gun shows allow loaded weapons? To maintain "a safe environment."
This leads to another popular gun nut talking point, because loaded gun-free gun shows don't work, not even on Gun Appreciation Day, so why do gun shows continue to have this rule? Because that's a stupid argument, that's why. If the fact that a law is broken were reason to repeal that law, we would have no laws at all.
Have a tip we should know? tips@mediaite.com