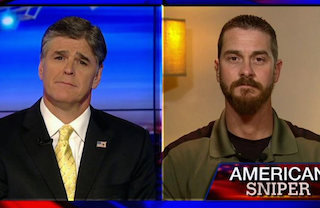 Sean Hannity welcomed Jeff Kyle, brother of American Sniper Chris Kyle, to his Fox News show last night and gave him a chance to respond to recent comments made by filmmaker Michael Moore and others about his brother's career as a Navy SEAL sniper in Iraq.
After showing Moore's first tweet on the subject on screen, in which he described snipers as "cowards," Hannity said he found that opinion "ignorant" and wanted to know how Jeff Kyle took it.
"Just because somebody was killed by a sniper, it doesn't make snipers cowards. Snipers are — they're saviors," Kyle told Hannity, echoing a line in the film about Chris Kyle having a "savior complex."
"For them to say that they're cowards, that would be like PETA calling Michael Moore a murderer for all the cheeseburgers he's eaten," he added.
Kyle also responded to NBC News foreign correspondent Ayman Mohyeldin, who said the sniper had "racist tendencies" that may have inspired his "killing sprees." Hannity described Mohyeldin as a "loud-mouth, idiotic, NBC liberal commentator" who didn't know Chris Kyle from a "hole in the wall" and wanted to know if comments like those "piss off" Jeff.
"Oh, it definitely pisses me off, it pisses all of us off," Kyle said, calling anyone who would denigrate his brother on television or online "cowards" who would never do it to the faces of him and his brother's fellow SEALs. "They're not even worth getting all riled up about," he said.
Watch the full interview below, via Fox News:
[Photo via screengrab]
— —
>> Follow Matt Wilstein (@TheMattWilstein) on Twitter
Have a tip we should know? tips@mediaite.com