Chris Matthews Amazed Tea Party Leader Thinks Obama Has "Soft Spot" For Islam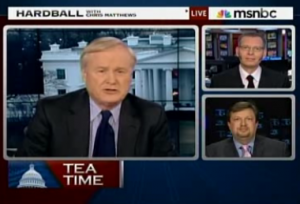 Today on Hardball Chris Matthews was less excited than he has been recently, yet this more subdued tone actually enabled him to conduct a more interesting conversation. With Tea Party guests Phillip Dennis of the Texas Tea Party and Matt Kibbe from FreedomWorks, Matthews explored his fascination with the fact that so many Republicans still believe President Obama is a Muslim.
Although neither Tea Party leader was willing to dismiss the idea that Obama was a follower of Islam, Kibbe quickly said that if Obama says he is Christian then he'll take him at his word. Dennis on the other hand was unsure, which prompted a lively back and forth with Matthews.
Dennis claimed he didn't know what Obama's religion was, but "if he's a Christian I certainly don't like the brand of Christianity he went to in Chicago for twenty years with Reverend Wright." Matthews laughed at how Dennis was "playing the game" and Dennis concluded that it was hard to argue that "President Obama certainly has a soft spot in his heart for Islam." Matthews responded that "I don't think [Obama's] anti-Islamic and I wonder why you are?" However, Dennis wasn't backing down and declared that he thought he had a right to be concerned with Islam, which he thought was anything but a religion of peace.
Matthews concluded the segment randomly asserting that "Democrats according to you are sorta vaguely Islamic anyway," but more importantly demonstrating that debates with Tea Party members are more enlightening than talking with other liberals about the people with whom he disagrees.
Watch the clip from MSNBC below:

Have a tip we should know? tips@mediaite.com