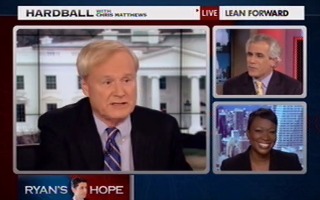 Chris Matthews and his panel guests ripped into Rep. Paul Ryan (R-WI) and what they perceived as a media establishment in Washington sympathetic to his economic vision over that of President Barack Obama's. The panel was vexed by what they perceived as unintelligent or needlessly provocative positions that Ryan habitually takes, and that Ryan is still taken seriously by the political media.

RELATED: Fox's Chris Wallace Grills Paul Ryan On His Desire To Repeal Obamacare: 'That's Not Gonna Happen'
Matthews called Ryan "the mad bomber" on Monday when he noted that, amid a move towards bipartisanship in Washington, the high profile House Republican still seeks to repeal and replace the Affordable Care Act.
"My question is why the newspapers keep acting as if this guy, Paul Ryan, is some big Republican brain?" Matthews asked. "Is this the person with whom the president needs to strike a grand bargain? If so, we've got problems."
The Grio editor Joy-Ann Reid quoted New York Times economist Paul Krugman when she said that Ryan is "a dumb person's idea of what a smart person sounds like."
"This is the pretense of seriousness," Reid added.
Mother Jones reporter David Corn asked hypothetically what would happen if President Obama's position in negotiations with Republicans was to insist that the GOP support a single-payer health care reform bill first.
"If he said that, would everyone in the Beltway go out and say, 'what a smart, thoughtful, intelligent leader that president is?'" Corn asked. "He'd be pilloried."
"How's he get the free ride with the press?" asked Matthews.
"Maybe the bar is very low for some Republicans compared to Newt Gingrich or Herman Cain?" Corn guessed.
Matthews concluded by saying that Ryan is "Ayn Rand personified."
Watch the clip below via MSNBC:
> >Follow Noah Rothman (@NoahCRothman) on Twitter
Have a tip we should know? tips@mediaite.com