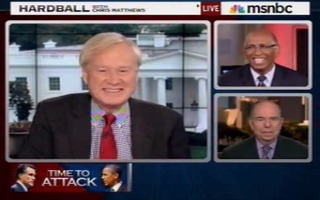 On Tuesday's Hardball, Chris Matthews and his panel guests took on President Barack Obama's reelection campaign's latest ad featuring Sesame Street's Big Bird. The Obama campaign's ad hits Mitt Romney for his pledge to discontinue federal subsidies for PBS, but ignoring the threats to America's economy posed by unscrupulous traders on Wall Street. Matthews and his panel panned the new ad and said that it was not an effective closing argument heading into the final weeks of the campaign.

RELATED: Feather Underground: 'Evil Genius' Big Bird Stars In Obama Campaign Ad
"You would think the Obama campaign would want to start looking forward toward the V.P. debate and the two remaining presidential debates," Matthews said. "Today, the Obama camp released this ad, again going back to Romney's line in the debate about Big Bird."
Matthews characterized the ad as "Mickey Mouse" before playing it for his guests, Democratic strategist Bob Shrum and former Republican National Committee Chairman Michael Steele.
Matthews begged his guests to be "independent minded" for a moment while they revealed whether they thought this ad was the right way to frame the election in its final four weeks.
"No, it's not," said Shrum. He noted that the ad was not accompanied with any announced airtime purchase in any of the competitive battleground states, and the ad was probably aimed more at the media than at voters. "We need to be talking about who is going to save Medicare, not who is going to save Big Bird," Shrum concluded.
Matthews said that there is a way to use sarcasm and parody to level an effective critique, but this ad did not showcase that kind of witty criticism.
Watch the clip below via MSNBC:
> >Follow Noah Rothman (@Noah_C_Rothman) on Twitter
Have a tip we should know? tips@mediaite.com