Chris Matthews And Panel Wonder Why No One Sees All The Racism Directed At Obama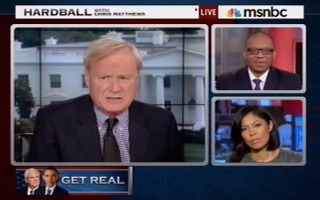 Chris Matthews' panel on Wednesday examined the "racialized," "otherized" messaging coming out of Mitt Romney's presidential campaign. They agreed that Romney's camp has been utilizing questionable themes to attack President Barack Obama and "stoke hatred." Matthews wondered why so few media outlets were talking about what he and his panelists viewed as the obvious racialization of the election via attacks on Obama for, among other things, allowing states flexibility to redefine welfare's work requirements.
After playing a montage of clips he viewed as racially-charged attacks on Obama by Romney supporters, Matthews asked MSNBC's host of NOW, Alex Wagner, why no one talks about the obvious racial undertones employed by Obama's opponents.
"It's shameful," Wagner replied. She cited Denesh D'Souza's documentary, 2016 — a popular political documentary about Obama's hypothetical second term. "It is doubling down on an incredibly divisive, 'racialized 'otherized' politics."
Matthews asked why Romney supporters like former House Speaker Newt Gingrich, the "meanest" of all of Obama's critics in Matthews' opinion, and former New Hampshire Gov. John Sununu kept striking what Matthews considered racial themes.
After paying a portion of an ad from the Romney campaign hitting Obama's administration for "gutting" welfare reform's work requirements, Matthews noted, "That ad had all white people in it."
He attacked Romney for saying the changes to welfare by the Obama administration were designed to "shore up his base." Matthews said he considered that "code for African American Democrats."
"There you have an ad with all whites in it and Romney comes out himself and says, 'this is so he can feed his base,'" said Matthews. "Can you imagine Obama going out and giving a speech to a big crowd in the inner-city saying, 'guess what guys and ladies? I'm getting rid of the work requirement for welfare.'"
"It's a totally ridiculous, demeaning idea," said Matthews.
"It's an update of the Ronald Reagan 'welfare queen' meme," Wagner answered. "It's a conservative dog whistle. It's part of the same racialized politics that Mitt Romney has been playing for the last eight, ten months."
"He's playing the lowest card in the deck, which is racially-charged, incendiary rhetoric that is designed to stoke hatred and foment, I guess, enthusiasm to get folks out to the polls," Wagner concluded.
Finally, Matthews played a clip of Sen. John McCain telling a supporter at a town hall that Obama was not an Arab after she suggested it. Matthews said "every time I see this – and I see it infrequently – I cry."
Matthews' panel guests noted that McCain had a sense of honor that is rarely seen today. He and Washington Post columnist Eugene Robinson wondered if they would ever see Mitt Romney doing something nearly as genuine.
Watch the segment below via MSNBC:
> >Follow Noah Rothman (@Noah_C_Rothman) on Twitter
Have a tip we should know? tips@mediaite.com