Chris Matthews, Anderson Cooper, Dana Perino, And Other Media Personalities Face Off On Jeopardy!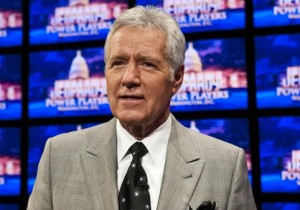 Some of the biggest players in the media participated as contestants in one of the most popular game shows over the weekend. Alex Trebek and his magic board of questions arrived in Washington D.C. for a very special edition of Jeopardy that will be airing the week of May 14. The show asked reporters who were present to not write stories about how each round turned out, so the results will not be spoiled before the episodes air. In a town where tough questions demand answers, it may be refreshing for newsmakers to answer with questions for a change.
RELATED: Jeopardy! Contestants Can't Identify Rachel Maddow
POLITICO features a list of everyone who was invited on for the long-running show's "Power Players Week," for a chance to win money for the charity of their choice.
Host Alex Trebek and his crew came to DAR Constitutional Hall this weekend to film "Power Players Week," featuring such contestants as former Bush press secretary Dana Perino, Fox's Chris Wallace, ex-White House spokesman Robert Gibbs, New York Times columnist Thomas Friedman, CNN's Anderson Cooper and Lizzie O'Leary, BBC's Katty Kay and NBC's Chuck Todd, Chris Matthews and Kelly O'Donnell.

Basketball star Kareem Abdul-Jabbar, comedian Lewis Black, Dr. Mehmet Oz, CNBC's David Faber and the Chicago Tribune's Clarence Page were also featured as contestants.
Matthews, Gibbs, and O'Leary showed off during one of the rehearsal rounds, which the show did allow reporters to cover. In response to the Final Jeopardy clue, "Discovered in 1930, in 2006 this was downgraded to a 'dwarf,'" Matthews wrote down "What is a midget?" to laughs from the audience, while both Gibbs and O'Leary correctly answered with Pluto.
In POLITICO's exclusive video below, Trebek reveals that he would love to be one of the questioners at a presidential debate in the fall.
Have a tip we should know? tips@mediaite.com
Josh Feldman - Senior Editor