Matthews & Andrew Sullivan Clash Over JFK's Foreign Policy Record On Real Time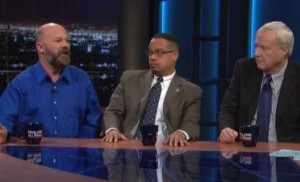 Who knew that almost fifty years later, the legacy of President John F. Kennedy would arouse such passionate feelings in people? Chris Matthews, who was on Real Time with Bill Maher tonight to promote his new book about the late president, was naturally very defensive of the Kennedy legacy, and went at it rather passionately with fellow panelist Andrew Sullivan over Kennedy's foreign policy credentials and whether he was a militaristic hawk while in office.
Maher brought up the current arguments being made by the Republican party over military involvement in Iran, and predicted that had JFK handled the Cuban missile crisis in a similar fashion, "we'd all be dead right now." Matthews explained that despite the advice given to him by military leaders, he made the decision to not militarily intervene because of the geopolitical consequences that could have arisen as a result. Matthews passionately explained Kennedy's thought process in the midst of crisis.
"Kennedy had a brain, and he used it. He didn't let all the emotions of the jackasses around him affect it. He said, 'I'm responsible for the future of this planet right now, and I'm not going to be affected by the clowns around me. I'm going to think it through.'"
Sullivan practically laughed at the idea of Kennedy being an effective global leader, arguing "he nearly blew the whole world up" as a result of his Cold War hawkishness. This set Matthews off, who argued that Kennedy was a strong decision-maker, though not necessarily a dove, and Sullivan countered that JFK would conceivably support Republican calls to invade Iran. Maher closed the panel before the discussion could get too heated, but had he not, it's clear both Matthews and Sullivan could have kept the argument going for another full hour.
Watch the video below, courtesy of HBO:

Have a tip we should know? [email protected]
Josh Feldman - Senior Editor