Chris Matthews Asks Andrea Mitchell If 'Wife Beating' Is Something Women 'Really Worry About?'
Matthews Asks Andrea Mitchell If 'Wife Beating' Is Something Women 'Really Worry About?'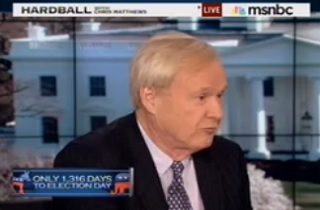 In what has to be at least the weirdest cable news clip you'll see this week, live-wire Hardball host Chris Matthews veered off-course Wednesday afternoon, during a segment on 2016 presidential powerhouse Hillary Clinton, to ask Andrea Mitchell if "wife-beating or beaters" is something that women "really worry about?"
They were discussing the possible political implications of Hillary Clinton's appearance at Tuesday night's Vital Voices Global Leadership Awards, at which Vice President Joe Biden also spoke. Mitchell was making the point that, while it was a good night for Hillary, Biden has "street cred" with women, as well. "He walked into her home court advantage, and got cheers for his passionate speech about protecting women and girls," she said.
Thankfully, neither Andrea Mitchell nor I were drinking a beverage when Matthews blurted "Is that close to the bone? The idea of wife beating, these old- or beaters?"
Is that close to the bone? What?
"Is that something women really worry about?" he continued.
"Men being brutal?" Mitchell asked. "Yes," she soldiered on, "the Violence Against Women Act, Joe Biden…"
"In the home?"
"Yes. Domestic violence," she replied, before pivoting back to Biden again.
Wow.
I have to tell you, the first time I saw this clip, I was only half-listening, and from Andrea Mitchell's reaction, was sure I must have heard it wrong. That's some amazing poise on her part, no doubt aided by her experience with aspirin-monger Foster Friess.
Here's the clip, from MSNBC's Hardball:
Follow Tommy Christopher (@TommyXtopher) on Twitter.
Have a tip we should know? tips@mediaite.com