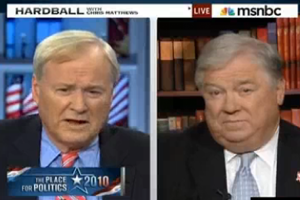 The Politico story on the GOP "country club elite" plan to overthrow Sarah Palin in 2012 raised a lot of eyebrows over the weekend– and its fair share of ire from the story's protagonist. But the anonymous sources quoted as conspiring against her have yet to be disclosed. Searching for the source, Chris Matthews went to Mississippi governor Haley Barbour to ask when the next "boys' club meeting" to depose Palin was scheduled.
Barbour, who many consider a contender for the 2012 Republican nomination, was earnest with his answer, telling Matthews that he didn't believe anyone was out conspiring against Palin and that, if they were, it certainly wasn't the "boys' club": "I would know if the boys' club was out meeting." He vehemently refuted the idea that "there are a bunch of people that are secretly trying to keep her from running," and suggest that, should she want to run, the decision should be left to Palin.
As he declared that they hadn't been conspiring, Matthews went ahead and asked when the "first meeting of the boys' club" was scheduled– after all, Haley is "the kind of the boys' club!" he joked, suggesting he was the "meeting caller" that determined the schedule. Barbour responded something shady about not being able to see his watch and returned to form when asked about his presidential ambitions, which Matthews seemed enthusiastic about. The short answer? He'll cross that bridge when he gets to it.
It's worthy of noting that there's a strange energy to the eagerness with which Matthews seems to relish the idea of Barbour running, calling him an "attractive man," the "king of the boys' club," insisting that he would be a good choice. It's much more akin to the way Sean Hannity talks to Sarah Palin about her presidential aspirations (or lack thereof) than, say, the way Wolf Blitzer talked to Sen. John Thune about his.
The interview from tonight's Hardball via MSNBC below:

Have a tip we should know? tips@mediaite.com