Chris Matthews Asks If 'Pin-Up Boy' Marco Rubio Is Ready For Media Scrutiny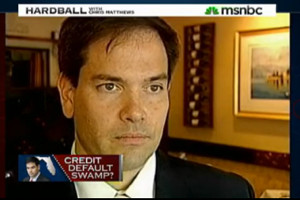 Florida GOP Senate candidate Marco Rubio has gotten the attention of the IRS for some creative bookkeeping with party credit cards, something his rival, Florida governor Charlie Crist, warned about, but was ignored because of an ill-conceived back wax metaphor. On today's Hardball, Chris Matthews wondered whether the media pressure will be too much for the "tea party pin-up boy."
Talking to Miami Herald reporters Beth Reinhold and Jay Weaver, Matthews goes through the facts (the IRS has been snooping around and found some inappropriate spending on Florida Republican accounts) and, before being dragged down into the financial investigation rabbit hole, takes a second to reflect upon what the investigation means for Rubio and, by proxy, the Tea Party movement that supports him:
"This is the first time nationally that one of the tea party– well, uh, pin-up boys, or pin-up girls, or whatever– has gotten this kind of scrutiny by the press… finally, it's not Rand Paul, it's not one of the others, it's this guy. What about the impact? Are they ready to take the heat?"
"Pin-up boy" may not have been the best choice of words there, and there's no telling how the tea partiers would have reacted to a similar comment about a female tea party leader like Sarah Palin. That said, it's interesting that Rubio has been caught up in a recurring GOP problem that tea party outsiders have consistently condemned (though Rubio, like a good tea partier, is blaming the GOP establishment for it).
Segment below:

Have a tip we should know? tips@mediaite.com