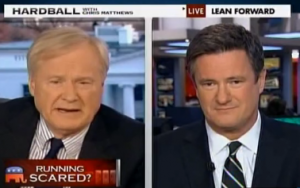 Chris Matthews invited Joe Scarborough to Hardball to discuss potential Republican candidates for the 2012 campaign. In addition to revealing he watches Morning Joe every morning while on the treadmill, Matthews suggested maybe Sarah Palin's poll numbers are so low in early primary states because voters are as tired of her as Matthews is talking about her?
Matthews, somewhat amazed by Palin's low support in some polls, wondered:
"People wear out their welcome in American politics . . . but I do think we talk about her too much. I think Palin may be like a fan belt on your car . . . it just wears out and you get a new one. Is she a fan belt that's just been thrown?"
Scarborough doesn't think Palin is capable of winning the nomination and, in his opinion, blames it on the fact that he finds her statements to always be self-interested and focused on a fight. Scarborough continued:
"Most Republicans I talk to that felt sorry for her in 2008, thought the media was unfair to her in 2008, have now just sort of shooked their heads and moved on and said she is not serious enough to be President."
Instead Scarborough agrees with Ann Coulter, that New Jersey Governor Chris Christie may be the Republican's only real chance to defeat President Obama. Yet although Matthews, Scarborough and other Republican operatives dismiss Palin as not a serious candidate, if Palin does decide to run, her unconventional persona will surely make her a serious threat despite what any poll says.
Watch the clip below from MSNBC:

Have a tip we should know? tips@mediaite.com