Chris Matthews Asks Panel If Voters Resent Or Admire Mitt Romney For His Wealth And Business Experience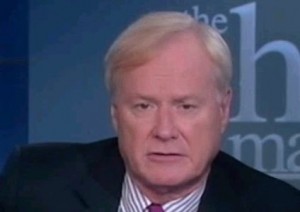 On his show today, Chris Matthews and panel discussed the very likely possibility of a Barack Obama–Mitt Romney showdown in the 2012 election, and amongst all the talk of class warfare and business experience, Matthews asked if American voters would embrace or resent Mitt Romney for his vast wealth and business ties given the anti-business climate in America encouraged by the Occupy Wall Street protests.
Matthews highlighted Nate Silver's prediction that if there was zero GDP growth in the next year, Romney would have an 83 percent chance of beating the president, but only a 60 percent chance if there was four percent GDP growth. The Obama reelection team has been capitalizing on Romney's ties to big business, but as Matthews stated, it's not as if Romney is walking away from those ties.
The always level-headed Jim Cramer predicted that economic growth would be sluggish and the unemployment rate will not simply vanish overnight, two factors which will definitely prove problematic for the president. Kathleen Parker added that the Republicans have an advantage over the president when it comes to voter excitement, with many Democrats "disappointed" and "reluctant to get behind him."
Gloria Borger pointed out that as opposed to many of the GOP candidates, it's hard to envision the president as a "populist" candidate at this point in time." Howard Fineman agreed, adding that the realistic Barack Obama of 2011 is much different from the idealistic Barack Obama of 2008-2009, and argued that the most effective populism this election cycle coming from Democrats is not anti-business, but anti-Republican, framing the other party as being against all the things the populists want.
Matthews turned the conversation back to the president's likely challenger next year, and asked the panel if Mitt Romney's business background and personal wealth would be a help or a hindrance with voters.
"Do you think the average guy out there or woman who's making average income or a little bit above who votes all the time, do they resent Mitt Romney's incredible wealth?… Or do they admire him for having done so?"
Cramer argued Romney should emphasize run on his record of job creation, while Parker thought Romney could be viewed as an effective problem-solver by voters. One thing the panel could agree on is that it would feel out-of-place for Obama to "rail against the wealthy" and create a climate of "class warfare" that some voters might look down on.
Watch the video below, courtesy of NBC:
Have a tip we should know? tips@mediaite.com
Josh Feldman - Senior Editor