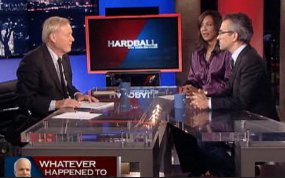 Sen. John McCain has come under a good deal of fire lately for taking political positions many feel compromise his principles, and it's safe to say you can count Chris Matthews among them. In fact, Matthews asked point blank earlier today, in the wake of McCain stands like opposition to ending Don't Ask, Don't Tell and opposition to the DREAM Act: "What happened to John McCain?"
Matthews brought in MSNBC analyst Michelle Bernard to help him figure it out, but she seemed perplexed as well, calling the McCain of today "a completely different human being" than he was even a few years ago – so much so that she's not even sure if he believes all the stances he's taking. Fellow political analyst Richard Wolffe didn't seem to have much more of an idea, wondering if McCain's "problem is with authority in general." Then, Bernard went there:
"He has become the male version of Sarah Palin."
Wolffe did allow McCain was probably always more socially conservative than most realized, but matthews wondered if McCain was simply angry at the media because he wasn't the "charmed" candidate anymore in 2008 like he was in 2000. Anger was a popular topic, as the three cited a recent piece by Joe Klein in which he described McCain as "bitter" and referenced his "personal pique" and "petulance."
Additionally, Matthews thought McCain didn't want to be seen as an equal of Barack Obama, and Bernard guessed that perhaps McCain's shift to the right portends another run at the White House in 2012. This potential reasons for the "new" McCain thrown around during this segment were all over the place, but one consistent theme was clear – these were three people deeply disappointed in John McCain. Video of the segment, via MSNBC, below.
Have a tip we should know? tips@mediaite.com