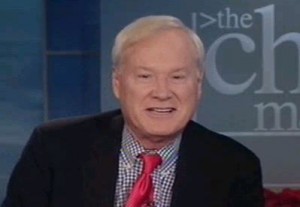 Today's edition of The Chris Matthews Show featured a small little awards ceremony to honor the most important political moments of the year. Chris Matthews dedicated the first award to President Obama for his "Best Move" of the year. The nominees for the category were the death of Osama bin Laden, the Libyan invasion, the fulfilled promise to withdraw from Iraq, and his unifying speech to the nation following the Arizona shootings and critical injury of Gabrielle Giffords.
Chuck Todd decided on Libya and the toppling of Moammar Gaddafi's regime for the top spot because of how risky a move it was to take. Katty Kay disagreed because of how long the conflict took and how costly it was for the United States to enter into, and decided on the death of bin Laden as Obama's best move.
"It was a kind of nothing-but-good-news moment for the president… competent execution, but it also inoculates him against any criticism, we've seen him use it, that he is in any way soft on terrorism."
RELATED: President Obama: 'Ask Osama Bin Laden Whether I Engage In Appeasement'
Kathleen Parker found herself stuck in a three-way tie between bin Laden, Iraq, and Libya, because she argued they were all part of Obama's overall foreign policy agenda, which she described as "lacking of chestbeating." Richard Stengel acknowledged the death of bin Laden was the easy choice to make, and argued that the withdrawal from Iraq was such a "colossal campaign promise" that to actually have accomplished it is a big victory for the president.
Matthews ended up agreeing and going with the Iraq withdrawal as well. The next category involved the Republican race for the presidency and which was the biggest turning point in the race. The nominees: Rick Perry's infamous "oops" moment, Chris Christie's decision to stay out of the race, Herman Cain's awkward moment of silence on Libya, or Mitt Romney starting to be more aggressive in his campaign, particularly in his battle with Newt Gingrich.
RELATED: Washington Post's E.J. Dionne: Maybe It's Time For The GOP To Draft A New Candidate
Parker gave it to Perry because of how defining a moment his verbal brain fart was in the campaign. Kay went with Romney instead because if Gingrich maintains the solid lead he's built for himself, Romney's attacks on him will become a major issue of the campaign as it progresses. Stengel agreed, and gave Gingrich credit for his impeccable timing in the race. Todd decided on Perry too, because he could have easily cornered the anti-establishment vote were it not for his verbal gaffes.
Have a tip we should know? tips@mediaite.com
Josh Feldman - Senior Editor