Matthews Battles With MSNBC Co-Hosts Over Whether GOP Is 'Attacking Teachers'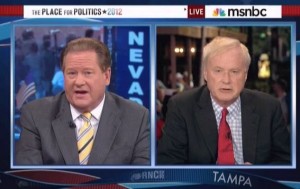 Following Jeb Bush's largely education-focused speech at the Republican National Convention tonight, Chris Matthews got into a heated argument with his fellow MSNBC co-hosts over teachers' unions and how much the GOP cares about taking care of teachers. Ed Schultz and Al Sharpton clashed with Matthews over Republican policies on education and privatization of education.
RELATED: On Morning Joe, Campbell Brown Explains Why 'Teachers Unions Go To Bat For Sexual Predators'
Matthews praised Bush's speech, calling education one of the most important civil rights issues of modern America, and said both parties should be concerned with how to deal with teachers' unions. Schultz shot back by saying that Republicans have been blatantly attacking public education and "have run a lot of good educators out of the business," saying that the GOP position on education boils down to "attacking teachers" over benefits and the like.
Matthews show back by arguing that no Republican has specifically attacked teachers, citing Bush's call for "higher pay for teachers." Schultz dismissed it as campaign rhetoric, pointing to six Republican governors whose education policies have not included pay raises for any teachers. Sharpton intervened to acknowledge that while both sides could still come together on education reform, Republican officials are fighting to "privatize education for personal gain." Matthews shot back by saying mothers will often "jump at any chance" to get good opportunities for their children, including private schools.
Sharpton told Matthews that there is only "a small percentage who have a choice" and "tokens" will be sent out to get opportunity scholarships. Matthews disputed the "token" charge, arguing that kids who get such opportunities achieve them on merit. Chris Hayes contrasted the rhetoric of the "equality of opportunity" with the reality of "equality of outcome," asking how GOP cuts in education could help balance it out.
Watch the video below, courtesy of MSNBC:
—–
Follow Josh Feldman on Twitter: @feldmaniac
Have a tip we should know? tips@mediaite.com
Josh Feldman - Senior Editor