Chris Matthews Calls Out Robert Gibbs On Hillary Clinton Spin: 'You Guys Sound Like Robots!'
Matthews Calls Out Robert Gibbs On Hillary Spin: 'You Guys Sound Like Robots!'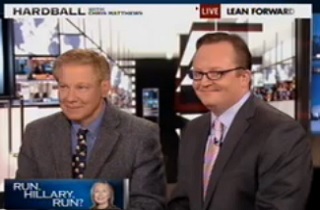 Conservatives will have trouble deciding who to root for in this one, as twin right-wing bogeymen Chris Matthews and former White House Press Secretary and close Obama adviser Robert Gibbs sparred over future first woman President Hillary Clinton's electoral intentions. On Thursday afternoon's Hardball, Matthews tried his damnedest to get Gibbs to weigh in on whether former Secretary of State Hillary Clinton will run in 2016, only to be shut down by Gibbs' press secretary kung-fu, prompting Matthews to exclaim "You guys sound like robots!"
Matthews asked Gibbs about Hillary's recent reemergence into public speaking, after only a few month break. "Is she trying to ward off Joe, warn him? I like you, joe, but don't be stupid enough to run against me? Is that what she's doing?" Matthews asked.
"I think she is taking advantage of lucrative speaking offers," a smiling Gibbs replied.
"What about Biden?" Matthews pressed. "Joe, I like you, don't run against me?"
"I believe, honestly, she has no idea what she wants to do,' Gibbs responded.
"You guys are like robots!" Matthews exclaimed. "You all talk the same way! You think she might not run for president?"
"I do, because I think it's 2013, and it's not…" Gibbs began.
"Why wouldn't she run?" Matthews demanded.
"Why would she?" Gibbs said, momentarily striking Matthews dumb.
"Because all her life, she and her husband, this has been a political life. It's a political life they've led," a clearly astonished Matthews said.
I think these are intensely personal —
Matthews continued to press Gibbs, who continued to parry, offering to bet even money Clinton wouldn't run, and even pointing out that, in 2016, Clinton "will be 69 years old. She may decide she doesn't want to do it."
Gibbs did point out that Hillary "could wait until ten minutes before the New Hampshire primary filing closes to decide to run for president and still be the nominee."
Matthews signed off the segment with a parting "Fifty-fifty. Give me a break!"
What's weird is that Gibbs' knowing smile, the whole time Matthews is breaking his chops, pretty clearly gives away his true feelings, so why did that Press Secretary muscle memory take over? Gibbs has already demonstrated that he isn't allergic to making newsworthy declarations as an MSNBC contributor, and Hillary running for president is the no-brainiest of no-brainers.
In this case, it was likely Gibbs' loyalty to his old office that restrained him. Even if everybody in the world were sure that Hillary was going to run, and Vice President Joe Biden wasn't, Biden needs to maintain the pretense that he might run, for as long as possible. Biden is a key player in enacting the President's second term agenda, and needs to avoid looking like a lame duck for as long as possible.
The needle of Gibbs' multiple loyalties is a tough one to thread, and Matthews didn't make it easy for him.
Here's the clip, from MSNBC's Hardball:
Follow Tommy Christopher (@TommyXtopher) on Twitter.
Have a tip we should know? tips@mediaite.com