Chris Matthews Cheers On Palin: If She Runs 'How Does She Lose' Against GOP Stiffs?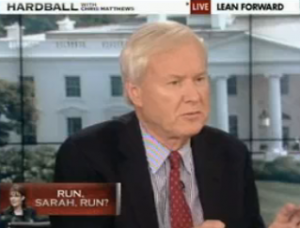 Chris Matthews discussed with Democratic and Republican political strategists Steve McMahon and Todd Harris the possibility of Sarah Palin running for President. While all suggested that she would be a very serious candidate, surprisingly it was Matthews who was most excited for her to run and confident of her chances.
Especially "against four guys, four stiffs" in the Republican primary race, Matthews gushed:
"Doesn't she win because she's the only woman in the race, perhaps. She's the only one with any pizzazz and she's the only cultural right person. She looks fabulous out on the stump. She's a great show and the others are not a great show."
While Harris warned that he thinks Palin is just taking steps to "stoke the fires of speculation," Matthews tried to convince him otherwise and almost like a campaign spokesman for her, he summarized why she would be a great candidate:
"She is really good . . . she's fantastic on a stage. When she walks out on that stage there's something kinetic happening. She looks great, look at her, she's alive, she's smiling, she's doing stuff, she's moving around. You can't take your eyes off of what she's doing."
Matthews contrasted her public appearances versus her less exciting Fox News interviews and concluded "she needs to get out in the air." In case it wasn't apparent already, Matthews admits by the end "of course I want her to run in the worst way." If for no other reason, it's likely because Matthews is becoming increasingly aware that he might be bored to tears if he's stuck with just the current crop of Republicans.
Watch the clip from MSNBC below:

Have a tip we should know? tips@mediaite.com