Chris Matthews Clashes With Guest Over Implications Of Gay Romney Spokesman's Resignation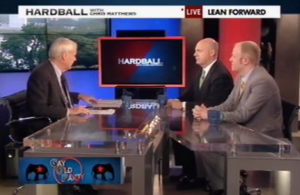 "If you needed evidence parts of the Republican Party are hostile to gays," Chris Matthews said on Wednesday, look no further than Richard Grenell, the openly gay Mitt Romney spokesman who resigned on Tuesday following backlash.
RELATED: Romney Spokesman Richard Grenell Resigns Following Backlash For Being Openly Gay
Matthews gave a quick rundown of some criticism from the American Family Association's Bryan Fischer, and Grenell's statement, which cited personal reasons for his resignation and thanked Romney and his team for sending a "clear message" that his being openly gay was a "nonissue."
He was then joined by R. Clarke Cooper, president of Log Cabin Republicans, who said:
Governor Romney is on record as saying he would hire gays and lesbians in his campaign. They were there before Ric got there, they are still there. […] Having gays and lesbians served is based on capability, not orientation. This is not new.
"Why did he leave?" Matthews asked — to which Cooper replied, "He felt he wasn't effective in his capacity. The story became more about Ric than the candidate. I know there was some frustration on Ric part about not getting out into the field."
Cooper defended the Romney campaign, telling Matthews that officials had asked Grenell to stay on. Maybe in statements, Matthews argued, but "in fact" they weren't inviting him to meetings.
Brian Moulton, of the Human Rights Campaign, said:
What is telling about even Ric's statement is that, yes maybe Gov. Romney made clear to him that his being gay wasn't an issue. But Gov. Romney didn't make that clear to the American people, he didn't make that clear to people who were criticizing Ric as a member of his team. They were silent on all of that criticism, and the suggestion that an openly gay person who happened it have the audacity to advocate for his full equality under the law through marriage is somehow a liability to that campaign. I think that's most telling thing about this, is that romney was silent.
Matthews then cut to a clip in which Romney adviser Dan Senor spoke about the "campaign" wanted him to say, but didn't mention Romney by name. He asked, "Do you believe there is any evidence on the table right now from Mitt Romney, he wanted this guy to stay?"
Clashing with Cooper, he further pressed, asking why Romney didn't stand up "as a leader not a follower" and defend Grenell.
Matthews then asked Cooper if he, representing his organization, calls for the Romney campaign to reinstate Grenell. "Ric resigned," Cooper said. "I know Ric, he's not gonna go back." The bigger issue, he said, is workplace nondiscrimination.
Moulton said the incident is "concerning," showing that the Romney campaign is willing to "stand aside" and let the right wing influence them on a question like this." He added, what does that tell about how the campaign will be influenced on other issues?
"Personnel is policy," Matthews said definitively, and it speaks to "who you are."
Take a look, via MSNBC:

Have a tip we should know? tips@mediaite.com