Chris Matthews Clashes With Rep. Barney Frank Over Potential Federal Law On Gay Marriage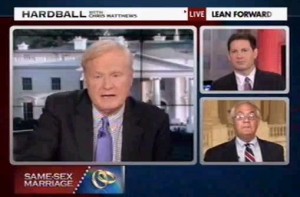 Congressman Barney Frank sat down with Chris Matthews tonight to talk about the Democratic party officially adapting gay marriage on its platform, and Matthews raised the issue of a federal law supporting gay marriage. Frank made it clear he opposes such a federal law and wants to leave the issue to the states, and got into a heated argument with Matthews about the need for a federal law.
RELATED: Democratic Party To Include Gay Marriage As Part Of Governing Platform At Convention
Frank explained that marriage has traditionally been left to the states rather than the federal government, and said that even after the Civil Rights Act passed in 1964, it was the Supreme Court, not a federal law passed by Congress, laid the issue of interracial marriage to rest. He told Matthews that no federal law has ever actually defined marriage.
Matthews told Frank that the Civil Rights Act contained plenty of precedent for federal law, including its provision telling businesses they could not discriminate on the basis of race. Frank shouted "You're wrong!" and made it clear he was only referring to a federal law that defines marriage. He also made the point that the Defense of Marriage Act, which interfered with the states on marriage laws.
Mark Halperin said that the Democrats adopting gay marriage as part of its platform would be a political blow to President Obama in certain states. Frank said that Obama already made his position known, so adopting it on their official platform is not going to be a huge game-changer. Matthews countered by telling Frank when the Democrats make it official, that will dominate the news for days.
Frank said he was "baffled by the media" because it was not a big deal when Democrats all over the country, including the president, came out in favor of gay marriage. Matthews countered by saying that making it official will be far more significant, but Frank insisted that "the Democratic position has been very clear."
Watch the video below, courtesy of MSNBC:
Have a tip we should know? tips@mediaite.com
Josh Feldman - Senior Editor