Chris Matthews Compares Ron Paul To Ross Perot, Sizes Up Paul's Chances As Third-Party Candidate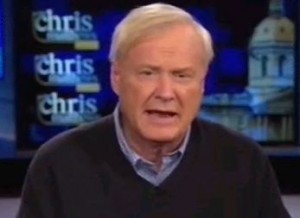 Chris Matthews took notice of Ron Paul's presidential campaign today, and wondered how long it would be before the libertarian congressman would finally give up his bid to get the Republican party nomination and run as a third-party candidate. Matthews recalled another fiscally conservative independent who did very well against two establishment figures: Ross Perot, almost twenty years ago. Matthews compared the two candidates and discussed with the panel whether Paul could be just as successful running as an independent.
John Heilemann noted that Paul's campaign rhetoric already sounds like that of an independent candidate, but if he runs and gets as much support as Perot, there is a chance he could split the anti-incumbent vote and President Obama would easily win reelection. Andrea Mitchell couldn't imagine Paul not taking the opportunity to do so, especially considering the kind of support he gets from independents and Democrats already, but one of the deciding factors may be whether or not it adversely affects the future political career of his son Rand Paul.
RELATED: Report: A Third-Party Ron Paul Run Could Doom The GOP's White House Hopes
Perot was only able to participate in the presidential debate way back when because he had enough national support to warrant himself a spot on the stage, but would Paul be able to garner that same support? Nia-Malika Henderson believed he could, citing his "rabid" and passionate supporters. And certainly his independent campaign would get a boost if Romney was the GOP nominee and voters believed the two major party nominees are too engrained with the establishment, as Howard Fineman put it.
Watch the video below, courtesy of NBC:
Have a tip we should know? tips@mediaite.com
Josh Feldman - Senior Editor