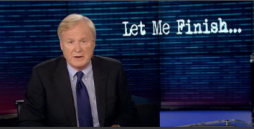 Few things set off the media gaffe warning bells more quickly than Chris Matthews declaring he has something to say about women in politics. Ooof. As entertaining as Matthews is to watch, especially on election nights, this is the man who over the course of the 2008 election year alternately referred to Hillary Clinton as a "she-devil" a "strip-teaser," "witchy," "Madame Defarge," "Nurse Ratched," and compared her voice to "fingernails on a blackboard." It got so bad Matthews was eventually forced to apologize…on air.
Suffice to say, Matthews does not have the best reputation when it comes to discussing women, especially powerful women. So it was with some trepidation that I greeted Matthews' Hardball commentary last night where he expressed some "strong thoughts" on women in politics. Matthews would like you to know there are a lot of them out there! Moreover "they are hardly the sacrificial lambs women candidates have served as in the past." Also, he has apparently seriously changed his tone on Hillary.
Here's a fact to remember…Hillary Clinton would not have been such a strong contender for the Presidency in 2008 if she had not had the courage to run for the Senate in 2000. That took her to the highest level of political competition. It could well be that her strong showing is what's inspired these other women to test their mettle in the ring this year. It's elections like those tonight that will tell us whether this set, this new set of women, will be top contenders in the future…53% of the voters in 2008 were women. It's increasingly likely that our top candidates for top office will reflect that statistic.
From taking advantage of her husband's infidelity to courageous! What a difference two years make! That's almost enough to send a shiver up a person's leg. In all seriousness, it's refreshing to see someone, most of all Matthews, tie this surge of "mama grizzlies" back to Clinton's paradigm shifting run in 2008. Sarah Palin has been enjoying much of the 'women in politics' spotlight in the last year or so, but it's worth remembering Palin herself was plucked from obscurity by John McCain in fairly transparent move to take advantage of the overwhelming women voter response to Hillary's candidacy.
Have a tip we should know? tips@mediaite.com