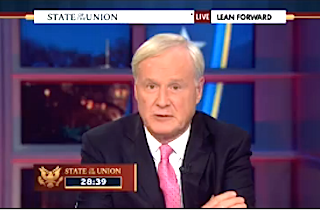 President Barack Obama made some critical comments about cable news pundits during his State of the Union address Tuesday night that just rubbed MSNBC's Chris Matthews the wrong way.
"I think he made a mistake about cable television," Matthews said immediately following to the end of the speech.
In his remarks, Obama said, "Over the past six years, the pundits have pointed out more than once that my presidency hasn't delivered on this vision. How ironic, they say, that our politics seems more divided than ever. It's held up as proof not just of my own flaws — of which there are many — but also as proof that the vision itself is misguided, and naïve, and that there are too many people in this town who actually benefit from partisanship and gridlock for us to ever do anything about it."
Later, he said to Congress, "Many of you have told me that this isn't what you signed up for — arguing past each other on cable shows, the constant fundraising, always looking over your shoulder at how the base will react to every decision."
"I think there are a lot of people, and on our network especially, who have hoped and in fact shared his hope with regard to the end of racial division and the need for the continuing hope for that aspiration and not all benefited from it," Matthews said in response.
"And also about bipartisanship, a lot of us, I think a lot of us believe we have to work together better and he and his Republican opponents have to cut deals," the MSNBC pundit added. "I don't think it's fair to say everybody benefits from division, he's made a mistake on that. I don't think he watches much cable television, to be honest, but that's his call."
Watch video below, via MSNBC:
[Photo via screengrab]
— —
>> Follow Matt Wilstein (@TheMattWilstein) on Twitter
Have a tip we should know? tips@mediaite.com