Chris Matthews: Does It Hurt Obama On Economy If He Isn't "Part Of The Pain"?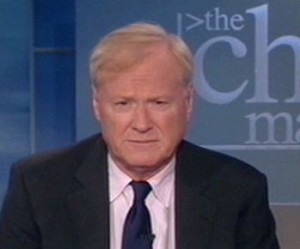 On his show today, Chris Matthews and panel criticized President Obama's handling of the economic crisis, focusing mainly on the way the president has been framing the issue and public perception of his ability to fix it if elected to another term. Matthews wondered if there was a disconnect between the president's demeanor and the voters who expect him to turn the economy around.
Matthews examined Obama's recent LinkedIn town hall, and found that despite his words of reassurance, one quarter of the country thinks the U.S. is headed for a longterm economic decline. Time's Rana Foroohar, who wrote the magazine's latest cover story on the economy, predicted it would be another three years before the economy would start to pick up again, and pointed out that younger people (a core Obama constituency four years ago) are the most pessimistic about the economy. She added that many middle-class families are shopping less and taking fewer vacations to save money, and as a result a lot of stores are losing business.
John Heilemann examined President Obama's handling of the economy, and how in the first year or so of his presidency the White House was more optimistic about economic recovery than, perhaps, they should have been. Matthews asked if the president's image was hurting public perception of his handling of the economy.
"Has there been a disconnect even visually? The president is a breezy, debonair personality. He almost… people say he floats when he walks along. He's very lighthearted. Even dressing the way he does, playing golf, wearing saddle shoes and all. Does it hurt him that he doesn't seem to be part of the pain?"
David Ignatius agreed, and drew a comparison to a candidate who he argues is the "anti-Obama": Chris Christie. He contrasted Obama's professorial style with Christie's notable confrontational tactics and off-the-cuff speaking style.
Nia-Malika Henderson encouraged President Obama to be more optimistic and to strike a balance between the cold reality of the economy and the glowing positive rhetoric he has used in the past.
Watch the video below, courtesy of NBC News:
Have a tip we should know? tips@mediaite.com
Josh Feldman - Senior Editor