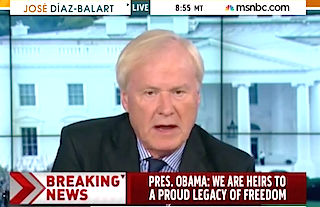 Chris Matthews joined his MSNBC colleague José Díaz-Balart Wednesday morning to discuss President Barack Obama's speech to the U.N. General Assembly. And towards the end of his analysis, Matthews drew a curious parallel between extremist terrorists in the Middle East and African-American teenagers who turn to dealing drugs.
Matthews praised Obama's "tough" language regarding people who turn to religious extremism because they can't build anything else. "I thought that was pretty tough," he said, "because you think about these guys sitting around all day planning revolution and killing people and cutting their heads off, what are they actually doing for the world?"
"Why do they want to be suicide bombers?" Matthews asked of Muslim extremists. "What a hopeless career move, I mean, to be blunt about it."
RELATED: Obama Invokes Ferguson at U.N.: 'We Have Our Own Racial and Ethnic Tensions'
When Díaz-Balart echoed the president by saying these people "see no other future" for themselves, it led Matthews to draw his analogy to some people in this country.
"Unfortunately there's a parallel with the African-American kid in a North Philly situation, where you grow up in a row house where there's more factories around, there's no more jobs around, there's no more blue collar options and the only deal being offered to you is from the drug dealer," Matthews said. "We have this problem at home and I'm glad he brought it up."
Watch video below, via MSNBC:
[h/t SooperMexican]
[Photo via screengrab]
— —
>> Follow Matt Wilstein (@TheMattWilstein) on Twitter
Have a tip we should know? tips@mediaite.com